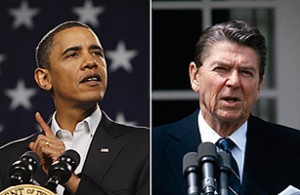 The Mitt Romney campaign has launched a new ad aimed at discrediting President Obama's handling of the United States' relationship with Israel, bashing the President for not visiting Israel during the first three and a half years of his presidency. Entitled "Cherished Relationship," the ad highlights that fact, plus Romney's recent declaration that Jerusalem is "Israel's capital."
The problem is, no Republican president since Richard Nixon has visited Israel within that time frame, and Ronald Reagan never made a presidential visit to Israel. Here's the ad, from the Romney campaign:
Bill Kristol threw this trip to Israel attack against the wall last week, but Mitt Romney apparently missed the memo that Republican presidents have a horrible record when it comes to visiting our Israeli friends. President George W. Bush didn't get around to visiting Israel until January of 2008, near the end of his second term, visiting again in May of that year. President George H.W. Bush, like Ronald Reagan before him, was an even less frequent visitor, traveling to Israel as President in February of Never.
As for the Obama White House's position on Jerusalem, here's what the White House said in a statement last week: (via email)
The status of Jerusalem is an issue that should be resolved in final status negotiations between Israelis and Palestinians.  We continue to work with the parties to resolve this issue and others in a way that is just and fair, and respects the rights and aspirations of both Israelis and Palestinians.
And here's what Ronald Reagan said about Jerusalem in 1982:
Finally, we remain convinced that Jerusalem must remain undivided, but its final status should be decided through negotiation.
In fact, as Principal White House Press Secretary Josh Earnest pointed out last week, that's been the US position for a long time:
It's the view of this administration that the capital is something that should be determined in final status negotiations between the parties.  I'd remind you that that's the position that's been held by previous administrations, both Democratic and Republican.  So if Mr. Romney disagrees with that position, he's also disagreeing with the position that was taken by Presidents like Bill Clinton and Ronald Reagan.
The US relationship with Israel, like many foreign policy matters, is a whole lot simpler when viewed from the cheap seats.
The Obama campaign responded Monday with several statements of support from Jewish leaders:
"Israel has no better friend than Barack Obama and people who are playing politics with Israel by suggesting otherwise are playing a dangerous game that puts Israel's security at risk. America's bipartisan support for Israel is too important to be made an election year political football. That being said, the Jewish community will judge and support President Obama based on his capable stewardship of the economy and strong foreign policy including his unprecedented record of support for Israel." – Robert Wexler, former U.S. Congressman and current president of the S. Daniel Abraham Center for Middle East Peace

"President Obama has a record of unprecedented support for Israel – standing up for our ally in the international community, providing the largest security assistance package in history, and taking military and intelligence cooperation to all-time highs. Numerous Israeli leaders, including Prime Minister Netanyahu, President Peres, and Defense Minister Barak, have praised the President's support for Israel and have said our relationship today is the closest it's ever been. Prime Minister Netanyahu called President Obama's actions in defense of Israel a 'badge of honor'. Does Governor Romney disagree with these Israeli leaders? And, does Governor Romney think that Ronald Reagan, who never visited Israel once, or George W. Bush, who only visited in his eighth year in office, weren't true friends of Israel?" – former U.S. Congressman Mel Levine

"When Mitt Romney says he will be a 'different kind of president' then voters have reason to be concerned.  Does he mean he wouldn't stand up for Israel on the world stage?  Does he mean he would cut Israel's largest ever security aid package or does it mean he would not build a coalition of allies to implement the harshest sanctions Iran has ever seen.  President Obama has backed up his words with unparalleled support for Israel time and time again.  America's bipartisan support for Israel is too important to be turned into a game of political football." –Obama for America Campaign Co-Chair Alan Solow
Have a tip we should know? [email protected]