Mitt Romney Cops To Tax Rate 'Closer To 15%' And 'Not Very Much' From Speaking Fees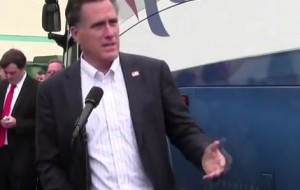 After being challenged at Monday night's South Carolina Republican Candidates' Debate to release his tax returns, former Massachusetts Governor Mitt Romney loosened that jar a little bit on Tuesday, telling reporters that his effective tax rate was "probably closer to the 15 percent rate than anything," explaining that his income came largely from investments, his book, and "speakers fees from time to time, but not very much."
The Huffington Post reports that, in RomneyWorld, "not very much" equals $374,327.62 over a twelve-month period
From HuffPo's Ryan Grim and Luke Johnson:
In Greenville, S.C., Romney was asked directly what his effective tax rate is. It was a hot topic of discussion at Monday night's debate, at which Romney repeatedly declined to fully commit to release his tax returns.

"It's probably closer to the 15 percent rate than anything," said Romney on Tuesday. "For the past 10 years, my income comes overwhelmingly from investments made in the past, rather than ordinary income or earned annual income. I got a little bit of income from my book, but I gave that all away. Then, I get speakers fees from time to time, but not very much."

Not very much? According to his personal financial disclosure, from February 2010 to February 2011, Romney earned $374,327.62 in speaking fees. A few months later, Romney joked that he was "unemployed."
The progressive PAC American Bridge has already jumped all over Romney's statement, releasing a web video that highlights Romney's remark that his speaking fees amount to "not very much," pointing out that Romney's chump change is "more than seven times the median household income in America."
They could have also gone with "that's more than 37 bets with Rick Perry," but who am I to criticize?
Tin-eared assessment of his speaking fees aside, Romney is probably wise to roll this out now (depending on what his actual tax return eventually says). He stands to suffer more from these revelations in the general election than during the primaries, so getting this information out now could blunt its impact down the road. If he's smart, Romney will release his tax returns in fairly short order, and as long as they don't show an effective tax rate below 15%, he should be able to get the worst of the Richie Rich attacks out of the way early.
If there's any other embarrassing information in his tax returns, such as foreign investments, the same holds true; waiting to put them out will only amplify whatever harm they might do.
Here's American Bridge's new web video, which includes Romney's remarks on his taxes, via YouTube:
Have a tip we should know? tips@mediaite.com