Mitt Romney Responds To Newt Gingrich Calling Him A Liar: 'I Don't Know Why He's So Angry'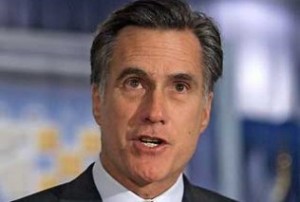 On her show today, radio host Laura Ingraham gave Mitt Romney an opportunity to respond to comments made by rival candidate Newt Gingrich this morning on the CBS Early Show. Gingrich, you'll recall, referred to the former governor as a "liar" and a "Massachusetts moderate" rather than a true conservative.
RELATED: Newt Gingrich: Mitt Romney Is A Liar, 'Massachusetts Moderate'
Mitt Romney's response was pretty much classic Mitt Romney: "Well, I don't know why he's so angry."
"Well," said Ingraham, "he's angry because he sees himself lacerated in commercial after commercial and he gets a 98.6 percent pro-life voting record yet, you know, the Super PAC is trying to say he is like a big squish on abortion. That's why he's mad." Squishy abortions!
Romney remained unruffled, explaining his relationship to the Super PAC in question:
I think he's mad for a lot of reasons, but I think he is a good guy. I like his wife Callista, wish him well. This will be a long campaign, and you know I think we're going to plow ahead. By the way, of course the Super PAC that is working for me, I know the people there. Of course I helped raise money for it, but the law says I can't tell them what ads to run or when to run them or where to run them. That's the law that we have to live by; we're not allowed to coordinate with these entities. And if they make mistakes or say things that are wrong, I decry that. Don't say things that are dishonest. But the idea of being upset about contrast and people pointing out the record of other people, that's part of politics.
Romney then refused to say whether Gingrich was being "thin-skinned," saying only that this is "obviously a tough time" for the former Speaker.
Listen to the clip, courtesy of The Laura Ingraham Show:
Have a tip we should know? tips@mediaite.com