Mitt Romney's 'Kiss My Ass' Press Secretary Returns To Campaign Trail Next Week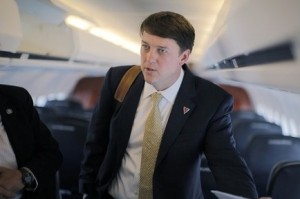 Republican presidential candidate Mitt Romney's recently-concluded overseas trip started with an inauspicious bang in London, and ended with an exclamation point in Poland, courtesy of a riled-up press corps and a short-tempered traveling press secretary named Rick Gorka. While Gorka, who told reporters to "Kiss my ass" and "shove it" when they shouted questions to Romney at Poland's Tomb of the Unknown Soldier, was reported to be "taking some time off" after the trip, Politico's Dylan Byers reports that he will return shortly:
Mitt Romney's traveling press secretary Rick Gorka will return to the campaign trail next week following "time off" after the campaign's overseas trip, a campaign adviser tells POLITICO.

ABC News reported yesterday that Gorka was "taking some time off" following a trip that culminated in a heated confrontation with the press at a Polish monument site.  Gorka, frustrated with reporters who were shouting questions at the candidate, told them to "kiss my ass" and "shove it" — an outburst that exposed a deeper rift between the Romney campaign and the traveling press corps.

Some in the press corps hoped Gorka's "time off" would lead to an internal reshuffling. It appears personnel, if not approach, will remain status quo.
Byers previously reported on Romney press corps griping about limited access to the candidate and an unresponsive press staff, which are common complaints on this kind of tightly-managed beat, but the Romney overseas trip was enough to test even the most seasoned observer of drying paint.
However, this kind of culture is usually a top-down phenomenon, so replacing Gorka, or anyone else on the press staff, wouldn't likely do much good, and when it comes to press aides, the old adage "better the devil you know" holds especially true. At least Gorka has the potential to give you a headline while in the act of tryng to give you nothing.
Have a tip we should know? tips@mediaite.com