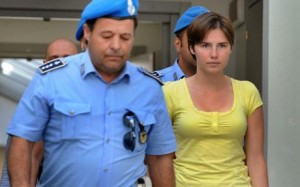 Less than a year after she was convicted of murdering her British roommate Meredith Kercher, Amanda Knox and her legal team are hammering out an appeal that they hope will prevent her from spending the next 26 years in Italian jail.
British paper The Daily Telegraph reports that Luciano Aviello, a convicted member of the deadly Camorra mafia, claims to have evidence that his brother Antonio, another mafioso, murdered Kercher in a failed robbery attempt. According to Aviello, his brother confessed to him and asked him to help hide a blood stained knife, which he claims he can retrieve and give to investigators.
The confession is nothing new in the ongoing Amanda Knox saga. Aviello gave this information to court authorities multiple times during the course of the trial, but it was deemed unreliable and discarded. It is only now as the Knox team prepares to appeal the conviction that the mob member's confession is being brought back into play. According to her lawyer Dalla Vedova, the prosecution was allowed to use unreliable witnesses during the trial which led to Knox's conviction. Using Aviello as a new witness would just be evening the playing field.
If the statement is true, Amanda Knox and the two men arrested along with her, Raffaele Sollecito and Rudy Guede, are innocent of murder.
The whole thing still smells a bit fishy, especially noting the last line of the article – "Antonio Aviello's whereabouts are unknown." But whether the confession turns out to be reliable or not, the appeal process is sure to whip up another media firestorm. It seems like no one can get enough of the story of the American girl locked up abroad.
Have a tip we should know? tips@mediaite.com