Model Took Sneaky Pic of Woman in Gym Locker Room and Now Faces Online Wrath
Have you heard of Dani Mathers? She was 2015's Playmate of the Year before Playboy ditched the whole "nude pics" thing. Maybe you have heard of her. Maybe you haven't.
She's the subject of a number of headlines today, though, so you will soon be acquainted. Spoiler alert: Those headlines aren't about what a good Playmate she is.
In fact, she doesn't seem to play well with others at all.
Mathers posted two photos to Snapchat while sitting in her gym's sauna. One showed a woman who was apparently naked. It was captioned, "If I can't unsee this then you can't either." The next photo was her with her hand over her mouth.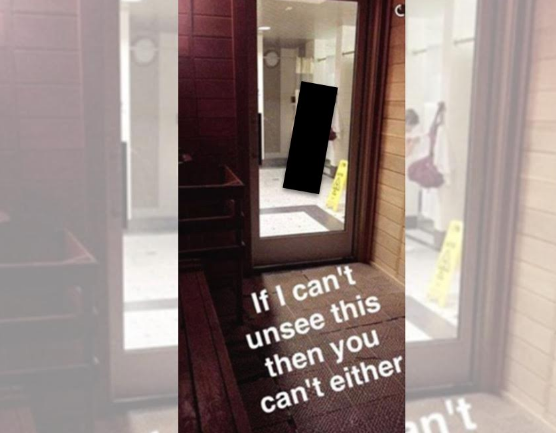 Beyond being rude, this could be a considered a huge invasion of privacy. Within the locker room of a gym, a person should be able to expect privacy and not have their photo broadcast to the thousands of followers a model may have on social media.
Speaking of social media, Mathers has deleted her Twitter:


It could have something to do with this backlash:
#danimathers @LAFitness you need to ban this @DaniMathers for breaking the law and shaming some women https://t.co/gRYRRlOAUR

— Donald Smith (@smithdonald2013) July 14, 2016
@DaniMathers your ugliness cannot be unseen now.

— Fa Mulan (@Mulan_1998) July 14, 2016
If @LAFitness supports all women & bodies they should ban @DaniMathers for posting a hateful and illegal nude snap of another member

— ktms1 (@ktms1) July 14, 2016
@myhairisblue @DaniMathers "Loser, get your life together and join a gym!"
"Okay, I have joined a gym."
"Check out this loser at the gym!"

— Mike Drucker (@MikeDrucker) July 14, 2016
She responded on Snapchat with a series of videos that showed her saying this:
I just wanted to acknowledge a photo that I accidentally posted on Snapchat earlier today and let you guys know that that was absolutely wrong, and not what I meant to do. I have chosen to do what I do for a living because I love the female body and I know that body shaming is wrong and that's not what I'm about, that's not the type of person that I am. That photo was taken to be a personal conversation with a girlfriend, and because I am new to Snapchat, I didn't realize that I had posted it and that was a huge mistake.
Listen. That's not how Snapchat works. It's very difficult to post not one, but two photos accidentally to your public story if your intention is to send to a friend. In my opinion, one photo might slip through, but the average Snapchat user would realize that quickly and delete it, not upload a second photo as a follow-up.
Not everyone is paid to be a model. Not everyone is required to look a certain way every time they leave the house. Meyers, of all people, should know the pressure put on women to look perfect at every moment.
No word yet from LA Fitness if they will be looking further into the incident.
[image via screengrab]
For more from Lindsey: Twitter. Facebook.
Have a tip we should know? tips@mediaite.com