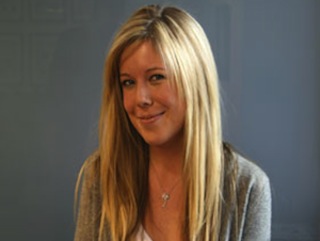 With the newest member of our little family, Mogulite, set to take the world by storm in just a few short days (April 25th launch!), we sat down with Amy Tennery, the site's managing editor to learn a bit more about what our new online sibling has to offer.
1) What is Mogulite?
The same way that Mediate has tracked major media figures, Mogulite will mine the inner workings of business titans and CEOs, with a healthy dose of skepticism. We're looking for the most interesting controversies of the day and the most fascinating nuggets about very powerful people.
2) Would you say it's more like a business site or more like a gossip site?
Somewhere in between. We're not the tenured economics professor waxing poetic but rather the T.A. who's had too much caffeine, is a little bit jaded and knows just enough to get you through finals. We're not in the business of attacking people personally (we'll leave other folks to that) but we are operating under the premise that worlds of celebrity and enterprise have become seamlessly integrated. We believe that some of the most surprising and unknown moguls are often the ones most worth following. And we understand that a mogul is like a fine Bordeaux — the older ones are often worth more but aren't necessarily any better.
3) Who are the types of people you'll be covering?
Every mogul from the high-brow to the undercover. Sure, we're tracking the obvious choices — Larry Ellison, Paul Allen, Carl Icahn and Jeff Bezos, to name a few — but we're also interested in the less-covered titans. We want to talk about the NFL team owner who's married to a Walton and the soup family dynasty that's the driving force behind countless grocery store impulse buys in America. We're as intrigued by the Maloofs and the Arnaults of the world as we are by the guy who invented Second Life.
4) How is the power grid going to work?
Numerous factors will come into play, including net worth and number of employees. We also take "buzz" into account: who's attracting the most attention? Who's generating the most news? Who's Twitter account has been shut down by the FCC? (Okay, we made that last one up).
5) Why have you become fascinated by moguls?
I like getting inside a world that typically shuts people out. You can give it any name you want — the country club, the good ol' boys' club (lots of clubs!) — but the world of the business elite is typically one of exclusion. I think that paradigm is shifting, with more "non-traditional" moguls worming their way into business and making a splash, and I think that's exciting! Moguls influence virtually every aspect of life, from the schools we attend to the sodas we down to the type of toothpaste we use, so we believe these power players ought to be as thoroughly scrutinized as anyone.
Have a tip we should know? [email protected]