Mosby's Office Takes Credit For Saving Baltimore from 'Burning to the Ground'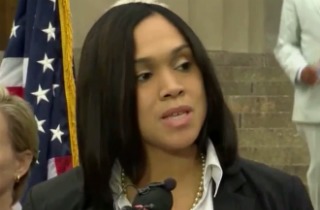 The office of State's Attorney Marilyn Mosby submitted a new court filing on Wednesday, taking responsibility for restoring order and calming down the crowd following Freddie Gray's death. Her office argued that by filing charges against the 6 officers connected to the Gray's arrest, Mosby saved Baltimore "before the entire city became an armed camp or was burned to the ground."
The Baltimore Sun reported that Michael Schatzow, Mosby's top deputy, said that when Mosby drew nationwide attention for her public promise that the officers would face justice, her words were appropriate at the time because she was trying to get the city's riots under control.
While addressing a defense motion accusing Mosby of tainting the jury pool by announcing the officers' charges, Schatzow said, "Mrs. Mosby was trying to calm the crowd, not incite it… Her repeated pleas for peace while the criminal justice system does its work served a legitimate law enforcement function."
When asked by the defense whether a single news conference would have had an outsized impact on the case, Schatzow said, "while there has been an extraordinary amount of publicity about this case, there has been no prosecutorial misconduct."
The prosecution's latest filing comes in the middle of a critical week for the Freddie Gray case. The prosecutor's office has until Friday to turn evidence over to the officers' joint defense team, and to respond to previous motions to have Mosby recused from the case. Mosby's office also responded to the public leak of Gray's autopsy, which Mosby tried to withhold as "sensitive" information.
"Even in death, Mr. Gray is not being provided with the appropriate respect that all humans deserve," wrote Deputy State's Attorney Janice Bledsoe. The office also reportedly sent a statement on Wednesday to Greta Van Susteran, who read out loud during On The Record that the leak did not come from the Mosby's team.
[Image via Screengrab]
— —
>> Follow Ken Meyer (@KenMeyer91) on Twitter
Have a tip we should know? tips@mediaite.com