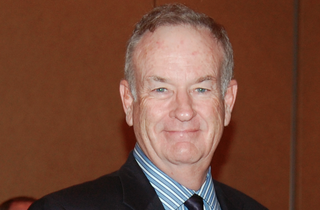 The magazine Mother Jones has an in-depth investigation out tonight into another well-known television personality with an apparent history of "inconsistent" war stories: Bill O'Reilly.
UPDATE: O'Reilly responded to Mediaite here.
When O'Reilly worked at CBS News once upon a time, he covered the wars in El Salvador and the Falkland Islands. And he said a number of times over the years that he saw combat in the Falklands. And yet, as Mother Jones reports, that may not have been the case.
One CBS News producer told them that "nobody got to the war zone during the Falklands war," and certainly "no CBS person got there." Bob Schieffer also recalls, "Nobody from CBS got to the Falklands. I came close. We'd been trying to get somebody down there. It was impossible."
O'Reilly was in Buenos Aires, though, and wrote in one of his books about witnessing a huge riot where "many were killed," a soldier pointed an automatic weapon at his head, and he personally witnessed "major violence up close and personal." However, as Mother Jones says:
O'Reilly's account of the protest in Buenos Aires is at odds with news reports from the time—including the report from his own bureau. The CBS Evening News that night aired about a minute of video of the protest, apparently including some of the footage that O'Reilly and his camera team had obtained. It showed angry Argentines yelling and denouncing the junta that had lost the war… The CBS report said nothing about people being killed. It does not match O'Reilly's dramatic characterization of the event in his book.
There's a lot more in there to take in, with other stories of O'Reilly's being scrutinized, but let's get to the question you probably have right now: how exactly did O'Reilly cover the Brian Williams flap again?
Well, O'Reilly was, of course, critical of Williams for the repeated misstatements, but he defended the NBC anchor from people "enjoying the destruction of this man." In one of his more recent segments on Williams, O'Reilly said his embellishments should get everyone questioning other "distorting" going on in the media.
You can read Mother Jones' full report here.
Watch video below, via Mother Jones:
[image via Wikimedia Commons]
— —
Follow Josh Feldman on Twitter: @feldmaniac
Have a tip we should know? tips@mediaite.com
Josh Feldman - Senior Editor