MSNBC's Michael Eric Dyson: My Takedown of Cornel West 'Vital and Necessary'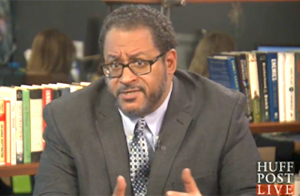 This week, The New Republic published a scathing critique of the African-American scholar Dr. Cornel West, written by none other than his colleague and "former friend," MSNBC contributor Michael Eric Dyson.
The article is nothing short of brutal: Dyson, a professor of sociology at Georgetown University, acknowledges West's stature as a "juggernaut" of African-American intellectualism, and called him "in my estimation, the most exciting black American scholar ever." However, Dyson argues, West has not produced anything fresh and original since 1993, when his seminal book Race Matters hit bookstores, and has instead become a self-absorbed man, intent on getting the black community to repudiate Barack Obama for his centrism, and was willing to freeze out Dyson — his own student — for not agreeing with him:
West has sacrificed friendships and cut ties with former comrades because he insists that only outright denunciation of Obama will do. It is a colossal loss for such a gifted man to surrender to unheroic truculence: If a mind is a terrible thing to waste, then the loss of a brilliant black mind is more terrible, more wasteful. At precisely the moment when we could use the old West's formidable analytical skills to grapple with the myriad polarities that glut the political horizon, the new West, already in the clutches of a fateful denouement, has instead sought the empty solace of emotional catharsis.
Speaking to HuffPost Live, Dyson defended the piece by saying it was absolutely necessary to critique his friend in public. "You know what the old people used to say? 'Where you did it is where you get it.' So people say, 'Why don't you do it in private?' Because [West's comments were] done in public," he argued. "And the public character of what we're doing here is vital and necessary because the lessons that can be learned, either from my mistakes, either from my flaws, either from my failures and professor West's are instructive to other people, who will then learn."
Watch below via HuffPost Live:
[Image via screenshot]
—
>> Follow Tina Nguyen (@Tina_Nguyen) on Twitter
Have a tip we should know? tips@mediaite.com