MSNBC's Norah O'Donnell: Anti-Religious Freedom Sentiment Behind Both 9/11 Attacks And Opponents Of NYC Mosque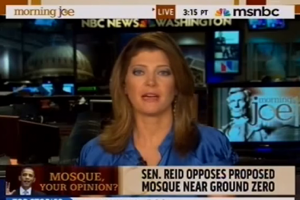 The proposed Islamic center several blocks from Ground Zero has fallen into a perfect political storm of national tragedy, touchy international relations, and mid-August heat, and everyone with an opinion on the matter seems to be taking their arguments to the extreme. The latest to seemingly make an outrageous comparison is MSNBC's Norah O'Donnell, who uses an analogy that involves those who oppose the construction of the mosque and the masterminds behind the 9/11 attacks.
Debating the much-talked-about issue, and especially Senate Majority Leader Harry Reid's reaction, with regular contributor Pat Buchanan on today's Morning Joe, O'Donnell objected to the possibility that President Obama and Mayor Mike Bloomberg were getting into what Buchanan called "political concrete" by supporting the right of those building the center to do so.
"When did we stop praising politicians for doing what is right even when it's not politically expedient?" she asked rhetorically. Suggesting that it was unjust for them to suffer political consequences since "the reason everybody is groaning all the time about our politicians is because they're such hacks and nobody stands up for what's right," she concluded saying that "somebody has to say that we're not going to act like the people who stole freedom from Americans, the people who attacked us." Her point seemed to have been that religious intolerance was behind both sentiments, but it's a tricky analogy that leaves room for the more vocal opponents of the mosque to stretch the argument to substitute her description of a general anti-religious freedom sentiment with a moral equivalency between of the people who oppose the mosque with those who orchestrated 9/11. Sentiment aside, cable news soundbite culture makes putting the 9/11 attackers anywhere near the opponents of the mosque rhetorically is a dangerous game. It's not like we haven't seen equally stretched out misinterpretations in this debate before.
The video below (via Breitbart TV):



This post has been edited from its original form.
Have a tip we should know? tips@mediaite.com