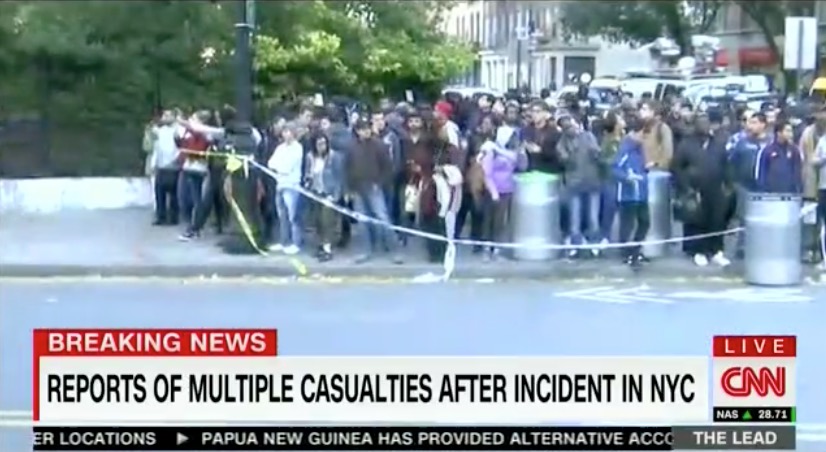 A man driving a truck in Manhattan, New York and plowed down people in a bike lane, injuring 15 pedestrians and cyclists and reportedly killing at least eight people, per CNN.
UPDATE: Mayor Bill de Blasio said during a press conference that eight people were killed and at least a dozen more were injured.
The New York Daily News reported that the suspect— who is now in police custody — used a Home Depot truck to blow down bike riders on a path near Stuyvesant High School in Lower Manhattan. The cause behind the incident is still currently unknown.
While the NYPD initially reported they were responding to "shots fired in Lower Manhattan," but most subsequent reports suggest the suspect did not posses any firearms. However, both CNN and Fox News have reported the suspected culprit was carrying "two fake guns" — which were a paintball gun and a pellet gun.
According to his Twitter account, star singer Josh Groban was a witness to the incident:
Oh my god I just heard gun shots and ran with my dog. Downtown. Fuck.

— josh goblin ? (@joshgroban) October 31, 2017
I hope everyone's ok. Was half a block from me, didn't see it but heard 8-10 quick rounds fired off. Be safe with your kids out there.

— josh goblin ? (@joshgroban) October 31, 2017
I'm shaking. That's the corner I was supposed to have my coffee but my dog pulled me into the park half a block away 10 min before shooting. https://t.co/AvQeRv7Jha

— josh goblin ? (@joshgroban) October 31, 2017
A reporter for PIX 11 News was also at the scene, posting an interview with a witness on his Twitter account:
Witness describes what he saw in Lower Manhattan pic.twitter.com/Fm3wdrkb10

— Myles N. Miller (@MylesMill) October 31, 2017
This is a developing story, and will be updated as news comes in.
UPDATE: This post has been updated to note that six people were reportedly killed in the incident, which happened just after 3:00 p.m. EDT.
UPDATE: In what was referred to as "preliminary" information, the official New York Police Department news account tweeted several new reports on the shooting:
"Earlier a vehicle entered the West St. pedestrian/bike path a few blocks north of Chambers St.The vehicle struck multiple people on the path. There are several fatalities and numerous people injured.The vehicle continued south striking another vehicle. The suspect exited the vehicle displaying imitation firearms & was shot by NYPD."
An official press conference will be held later today on the incident.
UPDATE: CNN is reporting — per multiple eyewitness sources — the suspect shouted "allahu akbar" during the attack. Additionally, the FBI's Joint Terrorism Task Force is now investigating this incident as a terrorist attack.
UPDATE: NBC News reports that New York City Mayor Bill de Blasio and New York Goveronor Andrew Cuomo visited the crime scene early this evening.
NYC Mayor Bill de Blasio and NY Governor Andrew Cuomo have arrived at the scene of the incident in lower Manhattan (via @ericfphillips) pic.twitter.com/gjd9UWfBCD

— NBC News (@NBCNews) October 31, 2017
UPDATE: During the NYPD's press conference on the incident, the police commissioner said the identity of the culprit will not be released until "further investigation."
UPDATE: The first photo of the terror suspect has circulated on Twitter. According to the NYPD police commissioner, the perpetrator is a 29-year-old male.
#BREAKING photo of terror suspect apprehended in Lower Manhattan today. @PIX11News pic.twitter.com/7vGzCZPHVS

— Anthony DiLorenzo (@ADiLorenzoTV) October 31, 2017
UPDATE: CBS News correspondent David Begnaud announced that three Belgians were hurt in the attack. Additionally, the AP is reporting that multiple Argentine citizens have died, but the exact number is unknown.
Three Belgians injured in New York City terror attack, according to the Belgium foreign affairs minister

— David Begnaud (@DavidBegnaud) November 1, 2017
BREAKING: Argentina's Foreign Ministry confirms 'Argentine citizens died' in New York bike path attack, doesn't say how many.

— The Associated Press (@AP) October 31, 2017
[featured image via screengrab]
Follow Caleb Ecarma on Twitter. 
Have a tip we should know? tips@mediaite.com