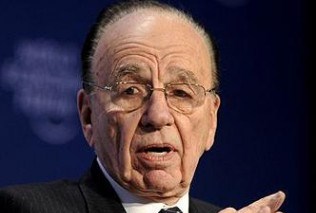 According to a report from New York Magazine's Gabriel Sherman, 21st Century Fox chairman Rupert Murdoch recently instructed Fox News president Roger Ailes to tone down the amount of pro-Donald Trump coverage on the network.
"Murdoch has tried — and failed — to rein in Fox News Chairman and CEO Roger Ailes, who, insiders say, is pushing Fox to defend Trump's most outlandish comments," Sherman writes, relaying from insider sources. "This week, Ailes told his senior executives during a meeting that Murdoch recently called him and asked if Fox could 'back off the Trump coverage…' Ailes is said to have boasted to his executives that he told Murdoch he was covering Trump 'the way he wanted to.'"
Numerous sources have indicated that Trump and Ailes sat down for a private, hours-long lunch early in Trump's candidacy. Sherman adds, quoting anonymous sources, that after that lunch Ailes has taken to instructing certain Fox personalities to defend Trump, including The Five's Eric Bolling and Fox & Friends' Steve Doocy — both of whom we've covered delivering stern defenses of the controversial billionaire.
Murdoch has been vocally critical of Trump on Twitter, fact-checking his comments on Mexican immigrants and telling him to stop "embarrassing the country." As Sherman notes, the Murdoch-owned New York Post and Wall Street Journal have also been critical of Trump's candidacy.
UPDATE — 2:15 p.m. ET: Quoted in the New York Times this morning, Fox spokeswoman Irena Briganti "called any implication that the channel's coverage of Mr. Trump was a ploy to help the eventual Republican nominee 'absolute nonsense, 100 percent untrue and said by someone who clearly doesn't know Roger.'"
[Image via screengrab]
——
>>Follow Alex Griswold (@HashtagGriswold) on Twitter
Have a tip we should know? tips@mediaite.com