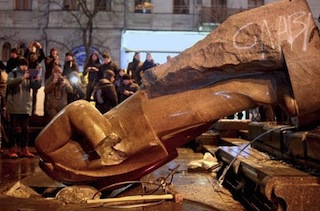 Every a.m., Mediaite publishes a primer of what the interweb machine is writing, talking, tweeting, and blogging about, so that you may fool friends and family into thinking you are a trove of information and insight. Today: Russian and Ukraine begin to square off in a post-Yanukovych world; Rand Paul vs. Woody Allen; the rise of the "self-esteem" movement and the problem with the label of narcissism; and more.

"Crimean City Offers Refuge to Ukrainian Police; Russia Launches Military Exercises" (Will Englund, Washington Post)
In what may the opening of post-Yanukovych Ukraine-Russian relations, the new Ukrainian government dissolved the elite police force responsible for much of the violence against protestors over the last three months—but the more Russia-influenced Crimean peninsula offered the officers sanctuary. Meanwhile, Russian President Vladimir Putin ordered surprise military drills along the Ukraine border to "test military preparedness."
"Vladimir Putin's Ukraine Dilemma: How to React?" (Matt Kwong, CBC News)
Matt Kwong runs down Putin's options on what to do in the face of Ukrainian President Viktor Yanukovych's ouster. Putin has both economic and military options at his disposal, but both appear almost certain to backfire. Which means, for all of Putin's geopolitical boogeyman status, he may be stuck with the "wait and see" approach that hawks love to call "leading from behind."
RELATED: "Vladimir Putin Is Not an All Powerful Mastermind" (Joshua Keating, Slate)
"Rand Paul Is Trying to Redefine the War on Women" (Matt Berman, National Journal)
Senator Rand Paul (R-KY) has kept at Bill Clinton for weeks on the Monica Lewinsky affair, but recently he's started to include another name in his attacks: Woody Allen, who donated to Kentucy Democratic senatorial candidate Alison Lundergran Grimes' campaign. Matt Berman on the play:
The Perverted, Amoral Hollywood trope feels dated. And it seems especially odd coming from a potential 2016 presidential candidate who wants to win over young people, namely Silicon Valley's libertarians. But this early on in what's sure to be an aggressive 2016 campaign, it makes sense for Paul to throw whatever he's got at the wall and see what sticks, especially when he's tied to a party that 55 percent of Americans say doesn't understand women. So far, he seems to think that this is working.
"Is It Mean to Debunk Lies About Obamacare?" (Jonathan Chait, New York)
Do reporters have a right to examine Obamacare horror stories? Chait notes that many of the patients featured in them are actually the types of people (i.e., those with preexisting and expensive conditions) the law is designed to help. Yet nobody can point that out without being accused of attacking cancer patients. "The right to appear in a misleading campaign attack ad is so sacrosanct that even contradicting any claims made in such a setting is a threat to the First Amendment," Chait writes, in the key of Chait.
"The Man Who Destroyed America's Ego" (Will Storr, Medium)
Your long read of the day. The history of "self esteem," from its surprisingly Randian (Ayn, not Paul) beginnings to its primacy in public policy to its scholarly reevaluation. Great stuff.
"A Little Narcissism Is Good For You" (Alice Robb, The New Republic)
Not unrelated to Storr's post, Alice Robb interviews Elizabeth Lunbeck, author of the forthcoming The Americanization of Narcissism. "Calling young people self-centered is an easy way to annoy them," Robb writes, "but it might do something more egregious: diminish the important psychoanalytic concept of narcissism."
At issue in both of the above pieces is whether narcissism has increased over the last two generations (possibly as a result of the self-esteem movement) or whether it's an inherent feature of youth that merely replicates itself with new crop of youngsters.
[Image via screengrab]
——
>> Follow Evan McMurry (@evanmcmurry) on Twitter
Have a tip we should know? tips@mediaite.com