Must Reads: Ukraine Set to Become Next Site for Disintegrating U.S.-Russian Relations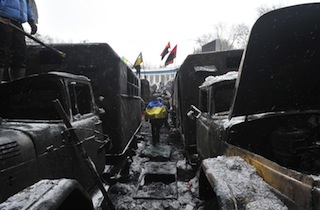 Every a.m., Mediaite publishes a primer of what the interweb machine is writing, talking, tweeting, and blogging about, so that you may fool friends and family into thinking you are a trove of information and insight. Today: is the situation in Ukraine about to become a projection of U.S.-Russia tensions? Plus, the eternal partisan waffling over the wonks at the Congressional Budget Office, and more.

"Violence in Ukraine Creates Deepening Clash Between East and West" (Steven Lee Myers, New York Times)
The deteriorating situation in Ukraine threatens to become a proxy for growing tensions between U.S. and Russia in what appears to be a pretty vicious circle: the tensions between the two countries seemed destined to forestall a peaceful resolution to the Ukrainian conflict, which will only deepen the divide between the two countries.
"Meet the Nerds Who Are Making Life Hell for the White House Right Now" (Chris Moody, Yahoo! News)
Chris Moody examines the office that is currently torturing the Obama administration (though it was not long ago that they were the GOP's boogeyman):
Over its 40-year history, the CBO has developed a reputation as a distinctly non-biased arbiter of federal policy, regardless of the party in power. That kind of intellectual honesty is rare in a town like Washington, but it makes for great theatre when politicians hold up CBO findings as Gospel one day (when it benefits their cause) and rebuke it as rubbish the next (when it hurts their cause.) Republicans do it. Democrats do it. They all do it…
"The Congressional Budget Office and the Bizarre, Partisan Jobs Debate" (Jonathan Chait, New York)
Meanwhile, Jonathan Chait finds the GOP's sudden embrace of the CBO's reports on the labor impact of legislation hilarious:
And yet the Congressional Budget Office, now brimming with conservative credibility, has spent the last five years issuing report after report assailing the Republican position. Republicans weeping for the half-million or so jobs that would be destroyed by a higher minimum wage would be shocked to learn that, according to the CBO, they have destroyed 200,000 jobs by blocking the extension of emergency unemployment benefits…
"Republicans' Favorite National-Debt Researchers Are Now Even More Discredited" (Danny Vinik, New Republic)
Speaking of Austrian economics (which Chait did in the above piece), the primary study that undergirded the GOP's austerity platform for the past few years was dealt another blow yesterday. Close followers of wonkitude may recall that some grad students found an Excel spreadsheet error in the so-called "Reinhart-Rogoff" report on debt-GDP ratio — an oft-cited study that seemed to argue for enhanced austerity measures as an emergency tactic against a debtpocalypse — that complicated its conclusions.
Now a new study that widens the area of study of countries with high debt found that the debt cliff of which Reinhart-Rogoff warned disappeared when you followed it out a few years, and that in fact our post-2010 austerity measures may have slowed economic growth (which increases the debt long term) in exchange for short-term deficit reduction. "It's the opposite of what we should've done," Vinik writes. Read the whole etc.
[Image via SERGEI CHUZAVKOV/ASSOCIATED PRESS]
——
>> Follow Evan McMurry (@evanmcmurry) on Twitter
Have a tip we should know? tips@mediaite.com