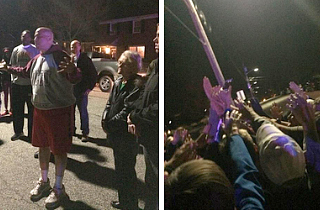 When I arrived at Grover Cleveland Middle School in Caldwell, N.J. on the evening of October 24 to attend an event announced by Sen. Cory Booker (D-NJ) on Twitter and advertised on his political website as a re-election campaign stop, I saw a man in a suit pacing around and looking disquieted. Assuming him to be a member of Booker's advance staff, I approached. I was surprised to learn that the man was the school's principal, James Brown.

When I identified myself as a journalist, Brown asked me to relay that he had never been informed by anyone that Booker planned to host a campaign event at the school that night. This was doubly irksome to Brown because a school dance was underway at the time. In fact, Brown told me that he had sought information about the event from both the Caldwell Police Department and the New Jersey State Police, and neither were able to provide him with any details. "Nobody contacted us and let us know anything about this. I have a dance, I have kids walking around," he said worriedly, jetting off to deal with some urgent development.
Soon after, Emily Gittleman, a "Director of Operations at Cory Booker for Senate," arrived on the scene. When asked about the principal's allegations, Gittleman would not reply to any of my queries. Instead, she stayed mute, and ceased to acknowledge my existence. It became truly bizarre. Principal Brown had laid out some extremely explicit concerns: why was a partisan Democratic political campaign taking place on school grounds during a Friday night dance, with kids roaming around outside? Why was this occurring without any apparent attempt at coordination with the administrative head of the school — the principal?
Gittleman would not field any queries on the matter. I asked her around a dozen times about this logistical problem, and she just would not respond to me. It was like trying to communicate with a malfunctioning robot. Is such behavior standard protocol for the Booker staff? Because it seemed befitting of some bad dystopian novel, not a U.S. Senator's campaign event.
When asked for comment, Cary Booker, the brother of Cory Booker (who was there for some reason) said, "I'm just the brother."
Things got even weirder when I noticed another member of the Booker operation had showed up. At first the man identified himself to me as "just a volunteer" for the Booker re-election campaign. This turned out to be a lie. Five seconds of googling revealed that this individual, Danny Smith, is currently employed as a "Legislative Correspondent" in Booker's Washington D.C. Senate office.
Was this federal government employee using taxpayer-appropriated resources to coordinate a partisan political event? Because in that case, Smith would be in plain violation of Senate ethics rules, which stipulate that Senate employees may only engage in electioneering "provided they do so on their own time, outside of Senate space, and without using Senate resources."
I tried to discern whether any Senate resources were being used in service of carrying out this event, but because all other staffers mimicked Gittleman and clammed up, obtaining relevant information proved difficult.
Eventually, Booker himself arrived. When he stepped out of his vehicle, Gittleman ran up to him and handed him a post-it note. He then addressed the crowd waiting to embark on what had been termed an "ice cream run" — meaning, Sen. Booker literally runs down the street flanked by local elected officials and others, and then they all go eat some ice cream.
Booker declared, "Tonight, it's not about politics, it's really about community." But lest there be any confusion as to whether this was a partisan political event, not only was it advertised on Booker's campaign website, a man stood beside Booker wielding a clipboard emblazoned with Booker's campaign insignia. Attendees had the opportunity to sign up for Booker's email list, and thus hand over their information to his political apparatus. What could be more "political"?
Another question: who paid for the Caldwell, N.J. police to set up for this partisan political campaign event? And by "set up" I mean place traffic cones along Bloomfield Avenue to block off vehicular traffic and make way for Booker's running group? Cops were also stationed along the route, providing security. Who paid for these cops' compensation during the hours in question? The taxpayers of Caldwell? If so, does that mean taxpayers were on the hook for the operational costs of Booker's partisan political event?
Booker concluded his pre-run "warm-up" speech, which had the feel of a quasi-religious football ritual, and we were all off. As promised, Booker was legitimately running down the street; a fast-paced walk was not sufficient to keep up with him. I actually had to run. Both Booker and I were sweating profusely as I ran alongside him.
When I attempted to relay the principal's concerns, Booker interrupted me: "Sir, let's get there first before you start asking me media questions. I saw your tweets. Wait till we get there."
When I informed Booker that his staff had refused to field my queries, he said, "Come on man, come on man." At that point, some local party apparatchiks tried to "box me out" in order to separate me from Booker, by which I mean, they rammed into me several times while running at a non-trivial speed. Nevertheless, somehow I managed to again run up alongside Booker. I asked him who was paying for the costs of the police protection. This time, like his staff had done earlier, Booker simply ignored my questions.
I was hopeful that once we arrived at our destination, Gelotti Ice Cream, I could catch my breath and ask Booker a few more detailed questions, as he assured me would be possible. Unfortunately, this did not come to pass. When I attempted to enter the establishment, I observed Danny Smith, the Booker staff member who had lied about his employment status, speaking to Russell Bleeker, the owner of the ice cream parlor. When I tried to enter the establishment, Bleeker stood in the doorway and impeded my movement. At this point, in order to prevent me from entering, he also blocked other members of the public from entering. All the while, Booker was inside the store chatting and taking "selfies" with fans, as is his custom at these events.
Another unidentified member of the Booker operation then approached me with a police officer. The officer asked me to step aside and speak with him. This cop had evidently been apprised by an unidentified member of Booker's staff that I was a "heckler," as if anyone who wishes to engage with Booker on a level beyond starry-eyed requests for selfies and exchanges of jokes about poo (literally, that was one of the jokes Booker chuckled at) qualifies as a "heckler" and must be removed. In the interest of not escalating things any further, I left on my own accord.
A few takeaways:
It was telling that when Principal Brown complained to a (yet another) unidentified member of the Booker operation that no one had informed him of that night's activities, the nameless Team Booker guy retorted by insisting that the Booker operation had sent out a tweet. Apparently, in Booker World, sending out a tweet was supposed to have been organizationally sufficient — no need to place a phone call with the principal or coordinate with local police. Just fire off one of them new-fashioned tweets, and you're good!
Another question is why Danny Smith lied to me about his employment status. He clearly was not "just a volunteer," as he claimed, but a salaried employee of Booker's Washington, D.C., Senate office. Indeed, Olivia Nuzzi of The Daily Beast, who wrote a critical profile of Booker published last week, told me that Smith identified himself to her as a member of Booker's Washington, D.C., Senate office during an earlier "ice cream run" event in Jersey City.
Perhaps none of these people did anything that might be construed as an ethics violation. If that were the case, why wouldn't they simply identify themselves forthrightly like normal human beings and explain what was going on? After Danny Smith told me his name, he too clammed up, and pretended to talk on his iPhone to avoid me. At one point, he even got into his car and drove away, before returning shortly thereafter. It was like a scene out of some rejected Monty Python sketch.
Actually, "sketch" is a good word to end on, because this whole thing was pretty damn sketchy. Booker now evidently denies the truthfulness of my account. This is to be expected. Let him detail precisely what happened, then.
Postscript: I was sad to discover that Booker has unfollowed me on Twitter. After a multi-year online relationship! How could you, Cory?! How could you?
— —
>> Michael Tracey is a journalist whose work appears in VICE, Al Jazeera America, The American Conservative, and other publications. Follow him on Twitter.
Have a tip we should know? tips@mediaite.com