Nashville Magazine Accidentally Publishes 'Racist' First Draft Review Of The Musical In The Heights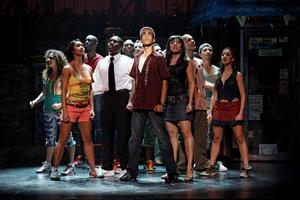 A writer's first draft is typically filled with errors that need to be paved over, which is why it can be extremely embarrassing if these drafts ever make it out into the harsh gaze of the public's eye. What can be more embarrassing is if those "errors" are actually "descriptive language" that some might find racially insensitive. That's what happened in Tennessee as the Nashville Scene has apologized for a review of In the Heights, the hit musical set in New York's diverse Washington Heights neighborhood, that many readers and theater fans called "racist." The Nashville Scene's editor has written a statement saying the review was merely a first draft that got published by accident.
So what did the original review say? Well, from the beginning, critic Martin Brady seemed to be debating Broadway's insistance on giving every ethnic group a musical (he began the review: "What will the American musical do for thematic material when the melting pot has completely turned to ethnic mush and no group is really underprivileged?"). This could be the beginning of an interesting argument if it weren't phrased so antagonistically (darn "underprivileged" folks!). It would also be more appropriate around the time that, like, Fiddler on the Roof was coming out. Our "ethnic musicals" really that popular in 2011? Is there anyone out there really rejoicing because, finally, the nation's spidermen and women have their own show to sing along to?
The review continued in that frame:
"Creator Lin-Manuel Miranda's story — book by Quiara Alegría Hudes — tells of a vibrant community in New York's Washington Heights neighborhood, 'where the coffee from the corner bodega is light and sweet, the windows are always open and the breeze carries the rhythm of three generations of music.' In other words, an excuse to employ dynamic youthful minority performers who dance and sing and holler to a lot of salsa music and groove on lyrics about Latin loving and partying."
As this reader pointed out, "excuse?" But it was the last line that really ticked people off.
"But if you like your ingénues brown and leggy and your music 'hot, hot, hot,' this is the show for you."
Yeah, no matter what the intentions were, that's the kind of thing most editors would put the kibosh on. So how did the review get online? This was Nashville Scene's editor Jim Ridley's response:
"An unedited first draft of Martin Brady's Critics' Pick of In the Heights ran by accident in the online edition of the Nashville Scene. As is the case here, first drafts are places for writers to work out ideas that should often be discarded before they ever see the light of day. Instead, the uncorrected piece was published online, and many commenters were offended by the descriptive language in the piece — concerns that were raised with the author during the editing process, and which, to his credit, he apologized for and agreed to change. The Scene apologizes to all readers offended by the piece; I offer my own personal apology as well and accept responsibility for the error."
So these were "ideas" that needed to be "discarded?" How odd. Oh well, I guess I should just be glad, again, that I write for a website that never feels any need to censor the thoughts of its staff.
Editor's Note: This post has been edited from an earlier form. Like many of Mr. Bershad's articles, it was filled with strange and unnecessary references to his distrust of the people of Norway. Normally we take these out before posting, but, somehow, these were missed. The comments were offensive and had absolutely nothing to do with the topic at hand. We apologize to any readers who were offended. Particularly any Norwegian readers. No one at Mediaite believes you are "all murderous vikings."
Editor's Second Note: Please don't tell Mr. Bershad about that first note. We've never told him we edit his posts and, since he never reads his work over ("I only move forward! Like a f**king shark!"), he has yet to find out.
(h/t Poynter)
Have a tip we should know? [email protected]