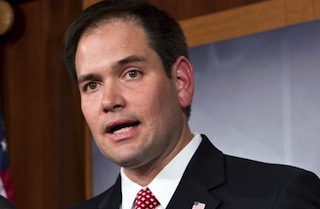 National Review editor Rich Lowry wrote on the conservative site's blog Sunday that Senator Marco Rubio's (R-FL) U-turn on comprehensive immigration reform—a move that finds him effectively lobbying against the bill he co-wrote and helped pass the Senate—is unprecedented.
"I'm not sure it has ever happened before that an architect of major legislation in the Senate has basically opposed its passage in the House," Lowry wrote. "But that's where Marco Rubio is."
Rubio spearheaded a comprehensive immigration reform bill last spring, along with a bipartisan cadre of senators unofficially dubbed the Gang of Eight, an effort that vaulted the freshman senator into national prominence but also made him a pariah among the conservative groups that helped elect him. The GOP-controlled House presented a larger challenge to the bill's fortunes, and Rubio's sudden reversal makes passage less likely.
"At this point, the most realistic way to make progress on immigration would be through a series of individual bills," a Rubio spokesman had written via email. "Any effort to use a limited bill as a ruse to trigger a conference that would then produce a comprehensive bill would be counterproductive."
Lowry acknowledged the awkwardness of the move, even as he seemed relieved to have Rubio on his side. "[Rubio] has already, rightly, taken a political hit for crafting and promoting the Gang of Eight bill," Lowry wrote. "Now he is going to take another hit, understandably, for his inconstancy. But his stance marginally strengthens opponents of a conference, and we need all the help we can get."
[Image via Fox News]
——
>> Follow Evan McMurry (@evanmcmurry) on Twitter
Have a tip we should know? tips@mediaite.com