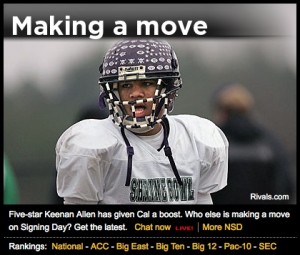 The Internet has done wonders for many looking to capitalize on niche interests, and at the forefront have been experts on recruiting for college sports, primarily football and basketball. Of course, college football and basketball were already hugely popular, but the recruiting phenomenon gives the sports new life during the offseason. In fact, since the process of recruiting high schoolers to join programs never ends, college football and basketball no longer have an offseason for those who follow recruiting – it's like free agency in pro sports, only year-round. Two networks of sites, Rivals and Scout, stand out as having capitalized on interest in the process often called "the lifeblood of college football" – and today might be their biggest day of the year.
That's right, it's National Letter of Intent Day, the first day those hotly recruited high school football prospects can make official commitments to the colleges of their choice. Most have already made non-binding verbal commitments, but up to and including today, anything can happen – and often does. These are high school kids we're dealing with, and some of them change their minds. Still others change their minds more than once – and considering they're being pulled in all directions by college football coaches who are essentially professional salesmen, to say nothing of their high school coaches and families, it's hard to blame them. Really, it's sort of crazy that so many of us (yes, "us" – I do it as much as anyone) follow high schoolers' college searches so closely.
But, as anyone from Rivals or Scout could tell you, we do it, and apparently like it. Most recruiting articles produced by Rivals and Scout require paid subscriptions to access – and those networks are flourishing, owned by major media players – Rivals by Yahoo! and Scout by Fox Sports. It's a year-round way to feed what for many people is their most rabid fandom. Whether or not it's healthy, it's definitely fun – and apparently, good business.
And now, I'm off to check for more last-minute recruiting news.
Have a tip we should know? tips@mediaite.com