NBC Sports' Bob Costas Blasts CBS For Glossing Over The Masters' 'History Of Racism And Sexism'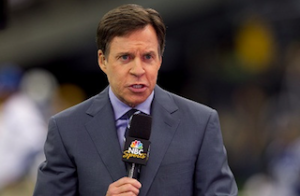 Bob Costas, who has been reporting for NBC Sports for over three decades, knows that he will never get a chance to cover the annual Masters golf tournament, which airs on CBS. But, as he told radio host Dan Patrick Friday, even if he did get the chance, he believes he would be kicked off the air for discussing the "history of racism and sexism" at the Augusta National Golf Club.
"What no CBS commentator has alluded to, even in passing, even during a rain delay, even when there was time to do so" Costas said, "is Augusta's history of racism and sexism." He added that even if he ever got the opportunity to cover the event, "I'd have to say something, and then I would be ejected."
Admitting that it's not an easy subject to broach during the tournament, Costas said, "I'm not talking about forcing this issue down everyone's throats while Tiger Woods is winding up for a birdie putt," but he said he does believe there should be forum for commentators to at least "acknowledge" the history. "I just think that somebody should have had the guts to do it somewhere along the way."
The Augusta National Golf Club did make headlines last August when they opened up the organization to women for the first time and invited former Secretary of State Condoleezza Rice to join. During last year's Masters, President Obama issued a statement urging Augusta to make the change.
Watch video below, via The Dan Patrick Show:
(h/t USA Today)
—
>> Follow Matt Wilstein (@TheMattWilstein) on Twitter
Have a tip we should know? tips@mediaite.com