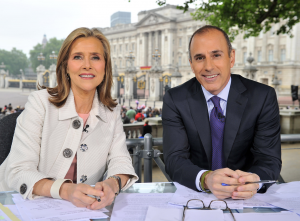 And some said nobody would watch. NBC has tallied up the numbers, and the network's huge investment–bringing the TODAY Show to London for the royal wedding–paid off. On the day of the big event, April 29, TODAY attracted nearly 10 million viewers–the top-rated morning show's best single day audience (and best ratings among viewers 25-54) in more than a decade. TODAY swamped its competition, beating ABC's Good Morning America by a million viewers.
TODAY executive producer Jim Bell told Mediaite "it is gratifying to see all of the long-range planning and hard work pay off with our best ratings in over a decade and one of the highest-rated TODAY shows in history. These are truly eye-popping numbers, with over 10.5 million viewers in our first half-hour. I think it's worth noting that while other networks called in anchors from outside their morning shows, TODAY took full advantage of this wonderful opportunity to showcase the best team in television to such a huge audience."
TODAY's big ratings answer critics, who said in the days ahead of the royal wedding the networks were going to take a bath on their overseas investment. Much-discussed polling indicated most Americans had little interest in seeing William marry Kate. That Friday morning, I went on an Australian network TV's The Morning Show, telling co-host Kylie Gillies it was very possibly a case of viewers saying one thing to pollsters, and then watching the big event anyway.
The monster ratings for the wedding were the biggest for TODAY since November 8, 2000, the day after the hotly contested presidential election. Last week also marks TODAY's 802nd consecutive week as the number one network morning show.
Have a tip we should know? tips@mediaite.com