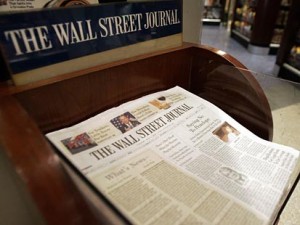 The Wall Street Journal makes its home at the intersection of business and journalism, two industries that increasingly rely on speed — speedy information that is. In a move to keep up with the increasingly rapid flow of information on the Internet — not to mention beat the competition in the ever-tightening print market — The Wall Street Journal will no longer participate in traditional news embargoes unless their reporters are getting exclusive access, PaidContent reports.
No more sitting on information at the behest of a source to break stories at the same time as other outlets. The Journal is more and more interested in being first, forcing reporters t0 move away from the 3,000-word articles we're used reading on the frontpage and get used to the idea of churning out short items as quickly as information becomes available. In other words, The WSJ is attempting to operate in Internet time.
The embargo embargo comes just months after WSJ managing editor Robert Thomson stressed the importance of getting news items on the Dow Jones Newswire as quickly as possible in a memo to his staff in March:
A breaking corporate, economic or political news story is of crucial value to our Newswires subscribers, who are being relentlessly wooed by less worthy competitors. Even a headstart of a few seconds is priceless for a commodities trader or a bond dealer – that same story can be repurposed for a range of different audiences, but its value diminishes with the passing of time.
That month deputy editor-in-chief Gerry Baker and Dow Jones Newswire SVP and managing editor Neal Lipschutz elaborated on the nuts and bolts of high-speed reporting in a memo to the staff:
URGENTS are to be considered the first outlet for our journalism. We do not hold stories for publication either later that day or in the next day's paper unless there is an absolutely compelling case to do so. The bar for this judgment will be set very high…

The premium on accuracy for URGENTS cannot be overstated. Of course, errors must be corrected as aggressively and quickly as possible, but errors do risk damaging the reputation of Dow Jones and the Journal, and corrections slow publication.
It remains to be seen if the new WSJ policies will be received as a muscle flexing or a much-needed move to compete with the likes of Andrew Ross Sorkin's DealBook at the New York Times and other financial blogs that move information at breakneck pace.
Have a tip we should know? tips@mediaite.com