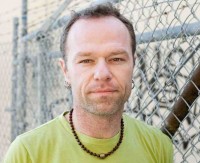 Last week I published an interview with Jill Sobule on the website I edit, The Rumpus. The interview was the result of several weeks of back and forth questioning, and I was really happy with the finished product. Jill is an amazing person, fiercely individual, a true artist. A lot of that came out in the interview.
Another thing that came out in the interview is that Jill Sobule called Katy Perry a "title thieving little slut." Jill's biggest song was the 1995 hit "I Kissed A Girl." Katy Perry's biggest song is also titled "I Kissed A Girl" and was written with the help of her manager, the same guy who originally signed Jill to her label. Jill had resisted saying anything for a year, but during our interview her feelings finally came through.
For those that don't know or are very young, I had a song in 1995 called, "I Kissed a Girl." When Katy Perry's version came out I started getting tons of inquiries about what I thought…As a musician I have always refrained from criticizing another artist. I was, "well, good for her." It did bug me a little bit, however, when she said she came up with the idea for the title in a dream. In truth, she wrote it with a team of professional writers and was signed by the very same guy that signed me in 1995. I have not mentioned that in interviews as I don't want to sound bitter or petty… cause, that's not me.

Okay, maybe, if I really think about it, there were a few jealous and pissed off moments. So here goes, for the first time in an interview: Fuck you Katy Perry, you fucking stupid, maybe "not good for the gays," title thieving, haven't heard much else, so not quite sure if you're talented, fucking little slut.
It took a few days but Jezebel noticed, then Rolling Stone. Then I noticed we were getting a trickle of traffic from The Sun UK. It turns out they had cut and pasted a large chunk of our interview, then posted a video of Jill, then followed that with a link to The Rumpus and a separate quote, making it seem like the original several paragraphs were there own.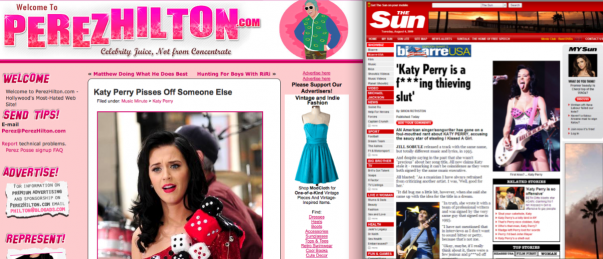 I suppose I shouldn't be surprised at getting ripped off by a British bikini mag, but what happened next taught me something new about the Internet: theft spreads. Following the Sun was a mention at Holy Moly. And then the king of online celebrity sites, Perez Hilton, quoted the article linking back to the Sun, apparently figuring that was where the quote originated.
It makes you wonder, why bother? Why did the Sun steal our content when it would have been so easy to write, "In an interview with The Rumpus, Jill Sobule said…" It seems like that would have taken less work. It's so easy to give credit. And since we're an all-volunteer daily culture magazine that's generally enough for us. But it turns out that stealing content is like littering. When you throw your trash on the ground the next guy does the same thing, and then the next, then the next. And soon the park's covered in trash.
Or maybe it's more like swineflu.
So fuck you Sun UK, you content-thieving little slut.
EDITOR'S UPDATE: Well! This is very exciting.The Sun has edited their post to reflect The Rumpus as the origin of the story. See, kids, shaming works! Just kidding, kudos to the Sun for making the change and making sure the story was properly and prominently  attributed. See below: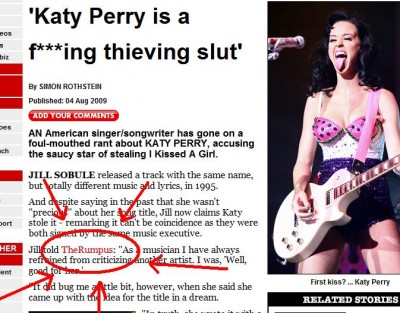 **
Stephen Elliott is the author of seven books including The Adderall Diaries and the founding editor of The Rumpus.
Have a tip we should know? [email protected]