Netflix Flexes Its Shows' Dominance By Having OitNB Stars Pay Tribute to Kimmy Schmidt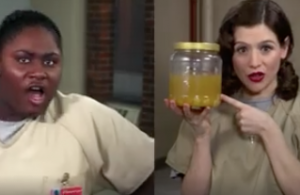 If you Google "Kimmy Schmidt," the first two auto-completed guesses for what you are searching for are "Kimmy Schmidt season 2" and "Kimmy Schmidt cast." The third one is "Kimmy Schmidt pinor noir" and it is that song, #PeenoNoir, that has played a huge role in making Netflix's The Unbreakable Kimmy Schmidt so wildly popular, even as it has faced a few dramatic setbacks. For those of you who don't know the song, watch below:
There is an entire episode in season one of the show that focuses on the down-and-out yet endlessly flamboyant performer, Titus Andromedon, scouting locations to film the music video he thinks will make him a star. It became a cultural cult sensation and the actor who portrays Titus, Tituss Burgess, has now released his own line of pinot noir.
Another cultural cult sensation courtesy of Netflix is Orange is the New Black, a dramedy about a woman who is ill-prepared for her stint in prison. Arguably one of the first shows that put Netflix's original programming on the map and paved the way for Kimmy Schmidt and others, OitNB is Netflix's baby. (The cast mates know this and regularly participate in political and social justice-related activities out in the real world, where they are bona fide celebrities.)
Now, to drum up a little bit of hype for the impending release dates of new seasons of Kimmy Schmidt and OitNB — April 15 and June 17, respectively — the inmates of Litchfield released their own version of "Peeno Noir," paying homage to their special kind of alcohol, prison hooch:
Litchfield's tribute to a masterpiece! #OITNB #KimmySchmidt #PeenoNoir

Posted by Orange Is the New Black on Thursday, March 24, 2016
Watch now and get ready for some serious Netflix binging starting in exactly three weeks!
[image via screengrab]
For more from Lindsey, follow her on Twitter.
Have a tip we should know? tips@mediaite.com