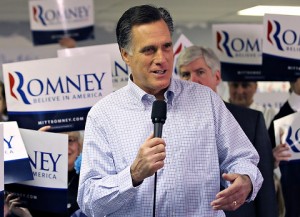 Mitt Romney won the Washington caucuses last night with roughly 37 percent of the vote, giving him five consecutive wins in the Republican presidential contest ahead of Super Tuesday. After Rick Santorum swept Colorado, Minnesota, and Missouri, Romney went on to narrowly win caucuses in Maine, primaries in both Michigan and Arizona, and the caucuses in Wyoming last week.
RELATED: Stephen Colbert Introduces The 'Countdown to Loving Mitt' Clock, Coins A New Slogan For Romney
To give some context to Romney's slow and volatile path to victory, Nate Silver notes that Romney has a good chance of winning the overall race even with his less-than-impressive margins of victory.
Can Mr. Romney win the nomination if he continues to get 35 or 40 percent of the vote in every state? Actually, several candidates have won the nomination with something like that figure. Walter Mondale won the Democratic nomination with 38 percent of the popular vote in 1984, Jimmy Carter did so with 40 percent in 1976, as did Michael Dukakis with 42 percent in 1988…

The results in Washington, however — as well as those in Maine, where Mr. Santorum ran a distant third place behind Mr. Romney and Mr. Paul, and in Arizona, where he was closer to third place than first — are more in line with the 1976 or 1988 paths. In those years, there was a mediocre front-runner but one who nevertheless had a fairly decisive advantage over a gaggle of rivals.
Romney currently holds the lead in several Super Tuesday states, including Massachusetts and Virginia, and he is currently in a dead heat with Santorum in Ohio. Newt Gingrich, meanwhile, is still comfortably ahead of his rivals in Georgia.
Have a tip we should know? tips@mediaite.com
Josh Feldman - Senior Editor