New 'Conservative' Video Ad Pushing Gang of 8 Bill… Funded By Mark Zuckerberg?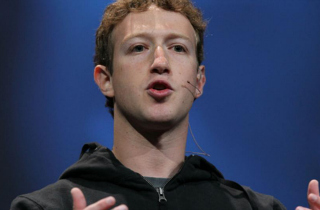 On Tuesday, a fresh new ad debuted, featuring Senator Marco Rubio pitching the 'Gang of 8' immigration bill, by an organization calling itself Americans for a Conservative Direction. As Politico reports, the ad and its new group are funded by the FWD.us, the organization formed to push Silicon Valley's priorities in Washington, backed by Mark Zuckerberg. FWD plans to push immigration reform partly through a subsidiary group aimed to garner conservative support, Americans for a Conservative Direction. According to Politico, Americans for a Conservative Direction will spend seven figures to run the pro-immigration-bill ads in several key states, including Texas, Florida, Utah, North Carolina, Iowa, and Kentucky.
Americans for a Conservative Direction's board members include:
Haley Barbour: former Governor Haley Barbour served as the 62nd governor of Mississippi from 2004 to 2012 and served as Chairman of the Republican National Committee in the mid '90s.

Sally Bradshaw: former Florida Governor Jeb Bush's Chief of Staff from 1999-2001, and served as a Co-Chair of the Republican National Committee's Growth and Opportunity Project.

Joel Kaplan: currently Vice President of US Public Policy at Facebook. Joel also served as Deputy Chief of Staff to former President George W. Bush.

Dan Senor: former chief advisor to Representative Paul Ryan on the Romney-Ryan 2012 campaign

Rob Jesmer: former Executive Director at the National Republican Senatorial Committee from 2008 – 2012.
Politico notes that "the FWD.us blitz, and the heavy-duty group of GOP advisers who have signed on to support it, illustrate the fierce intensity of elite pressure on Republicans to pass a bill."
The fact that GOP 'elite,' establishment pressure is pushing immigration reform also illustrates the growing disconnect between the 'Beltway' and grassroots conservatives. For instance, Red State's Erick Erickson, posted a piece entitled: "HAHAHAHA. Meet Americans for a Conservative Direction, the Latest GOP Scam in Washington," noting:
I'd like to introduce you to "Americans for a Conservative Direction." It's got Haley Barbour as the head of it, whose nephew was on the RNC audit committee. He's joined by Sally Bradshaw of the same RNC Audit Committee. They've also got Joel Kaplan of Facebook, Dan Senor whose wife is Campbell Brown formerly of CNN, and Rob Jesmer.

Jesmer, you will recall, headed the National Republican Senatorial Committee and backed Arlen Specter, Charlie Crist, Trey Greyson, Bob Bennett, and every other terrible squishy moderate to liberal candidate the GOP could field.

And now they want to call themselves "Americans for a Conservative Direction."
Erickson added another post today, slamming the group's use of the word 'conservative':
Typical GOP consultants. Prop up a single issue — the Gang of 8 Immigration plan — and use "conservative" as the word to try to sell it. At what point do conservatives make Republican consultants stop whoring that word around? Heck, we've got the American Conservative Union now working with defense and infrastructure lobbyists for big government spending. This is nuts.

Friends, the consultant class of the GOP at least screws rich liberals too. Gotta give them applause for their equal opportunity con-jobs.
The ad also contains a serious, misleading error. As Senator Rubio makes his pitch, wording underneath him reads "Establish Border Security First":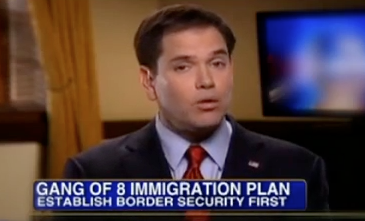 Huh? 'Border security first'? That's precisely conservatives' main gripe with the Gang of 8 bill — it does not establish border security, much less 'first.' In fact, as I've written, the only 'trigger' necessary for the legalization to proceed is that a border strategy and border fencing plan has been submitted to Congress and 'commenced.' Further down the line, there is no real 'border security' before the green card/permanent residency process may proceed: regarding the border, all that is required is that the two plans are "substantially" implemented and operational.
Click below for the new video:

—
>> Follow AJ Delgado (@missADelgado) on Twitter
Have a tip we should know? tips@mediaite.com