New Poll Shows Conservative Republicans Increasingly Believe Obama Is Muslim
A new Pew Research Center poll found that the number of conservative Republicans who believe President Barack Obama religious faith is Muslim has doubled since just before the 2008 election.
Four years ago, 16 percent of self-described "conservative Republicans" identified Barack Obama as a Muslim; and today that figure has risen to 34 percent. Among self-described "moderate" and "liberal" Republicans, however, there has been virtually no change.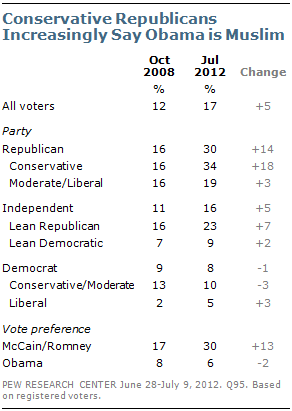 49 percent of all surveyed individuals identify President Obama as a Christian, while only 17 percent believe him to be a Muslim. Among those who are are "sure" they can identify the president's faith, 19 percent say they are "uncomfortable" with it. However, most of those who expressed discomfort believe Obama is a Muslim.
Overall, the poll concludes that most voters are unconcerned with the candidates' religion — even GOP candidate Mitt Romney's avowed Mormonism which many analysts say could hurt him int he election. Nearly 80 percent of those who could correctly identify Romney's Mormonism said they are either "comfortable" or unconcerned with his religious views, while only 19 percent said it made them uncomfortable.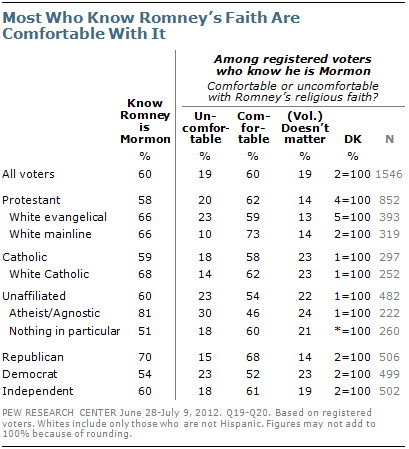 "Along religious lines, white evangelical Protestants and black Protestants, on the one hand, and atheists and agnostics on the other, are the most likely to say they are uncomfortable with Romney's faith," Pew wrote. "Yet unease with Romney's religion has little impact on voting preferences. Republicans and white evangelicals overwhelmingly back Romney irrespective of their views of his faith, and Democrats and seculars overwhelmingly oppose him regardless of their impression."
Full poll results here.
—
>> Follow Andrew Kirell (@AndrewKirell) on Twitter
Have a tip we should know? tips@mediaite.com