A new craze is sweeping the nation: attacking the character of murdered people for their perceived ideological crimes.
Hours after news that the death of ISIS hostage Kayla Mueller had been confirmed, a report emanated from the conservative blogosphere alleging Mueller had served as a "human shield" for a pro-Hamas group. Mueller worked for a pro-Palestinian organization in 2010-11, and also for a variety of refugee organizations in Israel and Turkey.
But her Palestinian activism led to the following reactions — the first from a Breitbart editor; the latter from a self-styled conservative pundit:
Sad that Kayla Mueller was anti-Israel activist. If she understood both sides she might have avoided idealizing the enemy that killed her

— Joel Pollak (@joelpollak) February 11, 2015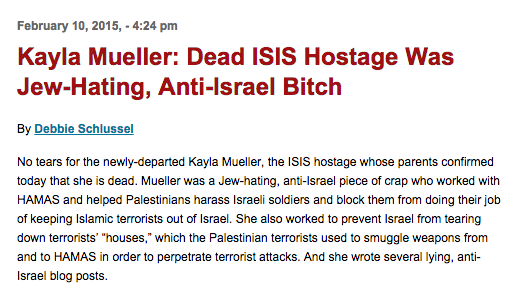 "When people ask me what I think of Kayla Mueller, I'll say, I think she's incinerated," Schlussel's post concluded. "Buh-bye, Kayla. Have fun with your 72 Yasser Arafats."
Meanwhile, the murders of the three Muslim students in Chapel Hill occasioned this response from would-be vigilante blogger Chuck Johnson:
We're against the killing of anyone. Still, some of the views of the #ChapelHillShooting victims are repugnant & needed to be called out.

— Charles C. Johnson (@ChuckCJohnson) February 11, 2015
It's hard to feel sympathy for someone who didn't feel sympathy for the Jewish people. #ChapelHillShooting

— Charles C. Johnson (@ChuckCJohnson) February 11, 2015
Johnson retweeted a number of pro-Palestinian posts from Deah Bakarat, the 23-year-old allegedly shot and killed by a Chapel Hill man Tuesday evening, though none were anti-Semitic or anti-Israel.
Incidentally, this was Bakarat's tweet from two weeks ago:
It's so freaking sad to hear people saying we should "kill Jews" or "Kill Palestinians". As if that's going to solve anything SMH

— Deah Barakat (@arabprodigy30) January 28, 2015
[Image via screengrabs]
——
>> Follow Evan McMurry (@evanmcmurry) on Twitter
Have a tip we should know? tips@mediaite.com