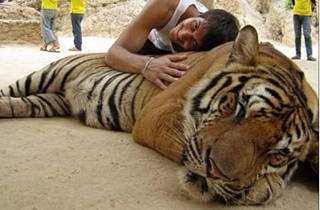 Well, this is truly terrible news: a bill introduced to the New York State Assembly would ban people from taking photos of themselves "hugging, patting or otherwise touching tigers."
Assemblywoman Linda Rosenthal told the New York Post that the bill would protect New Yorkers from being mauled by tigers performing in traveling circuses and state fairs, which allow people to and assert their status as the dominant species by posing for tiger selfies. However, she acknowledged that there was an unintentional side effect to her bill, if passed:
The Upper West Side Democrat acknowledges proudly that the bill would also destroy a trend now prevalent among users of dating apps — men snuggling with tigers in reckless attempts to look brave or cuddly or, even more implausibly, both in their dating-profile photos on online services like Tinder and OKCupid.

"They can still pose with bears and monkeys," the assemblywoman said. "They just have to take big cats off their list."

…"I feel bad now," cracked Rosenthal staffer Lauren Schuster. "We're killing bros' dreams and chances of being laid!"
Terrible. Shocking, truly. Infringement on civil rights, etc.
Actually, considering how prevalent this trend is, banning tiger selfies might actually be the purpose of the bill itself. Behold, Tinder Guys With Tigers; behold, this statistic from the Wall Street Journal that claims that one in ten Tinder users have tigers in their profile. This might be a good law.
[NYP]
[Image via Tinder Guys with Tigers/Tumblr]
—
>> Follow Tina Nguyen (@Tina_Nguyen) on Twitter
Have a tip we should know? [email protected]