Pregnant News Anchor Releases Audio of Nasty Call From Troll: 'You're Being Disgusting On TV'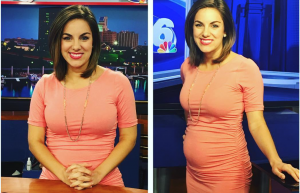 As the GOP fights to push a health care bill that would essentially render pregnancy and motherhood preexisting conditions, a local news anchor is speaking out about the harassment and sexism she's faced from viewers as a pregnant woman.
Of course, even prior to WRWD anchor Laura Warren's pregnancy, Warren says she and her female colleagues have faced all kinds of sexism and body-shaming.
"I've gotten comments like, 'You should wear this shade of lipstick or that,'" she told HuffPost. "I have seen a ton of my friends and colleagues receive really harsh criticism, and that's tough to watch. One viewer told one of my best friends she had a 'basketball' head. Another was told she was 'too big' for TV. It happens all the time."
Frankly it's hard to understand how anyone could be so hateful or have so little on their plate that they have the time to harass local news anchors, but in either case, in an age of depraved, troll-dominated internet comment sections, it's hardly a surprise. to learn what female reporters across the nation are being subjected to.
But a phone call Warren received calling her "disgusting" for being pregnant and criticizing her maternity clothes, was particularly upsetting.
Warren, who is 20 weeks pregnant, received the following voicemail and recently shared it on her Youtube account. "Please go to Target and buy some decent maternity clothes so you don't walk around looking like you got a watermelon strapped under your too tight outfits," the viewer said in the voicemail. "Target's got a great line of maternity clothes in case you've never heard of such a thing. You're getting to where you're being disgusting on the TV."
Warren has since reflected on the experience in a blog post, in which she describes pregnancy as "already one of the most emotional, insecure times of your life," even without hateful viewers around to shame you for your every bodily decision, every step of the way.
"Now, throw yourself in front of a camera that adds 20 pounds every night, find clothes that not only fit, but also don't make you look like a whale, and cake on enough hair and makeup products twice a day to moonlight as a Las Vegas showgirl, and you'll understand where I'm coming from," she wrote.
Warren is now 20 weeks pregnant and expecting a baby boy, but her first pregnancy ended in a miscarriage in October 2016, perhaps adding extra sting to the disgusting criticism she's receiving. Warren's choice to "turn [the female viewer's] negative energy into positive energy" is respectable, but it's a burden she and all pregnant women and new mothers shouldn't have to face.
But unfortunately, the judgment, scorn, and even micro-management that comes with pregnancy, and, soon after, with whether or not a mother chooses to breastfeed (as a former female lawyer to President Donald Trump could attest to), are all part of an experience that just about every pregnant woman and new mother — especially those in the public eye — could attest to.
This is an opinion piece. The views expressed in this article are those of just the author.