In today's cutthroat media environment, stories break fast and spoil faster. It doesn't take long to go from big news to scraps of news to contrary opinions that seem cooked up solely for shock value. News Decay charts the strange and rapid declines wrought by the 24-hour news cycle.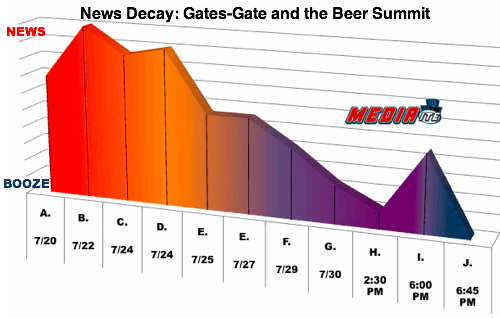 A. July 20th, 4:37 PM: The Boston Globe breaks the story that on July 16th, Black academic Henry Louis Gates, Jr. was arrested by a white police officer, Sergeant James Crowley, as he was trying to get into his home.. The story becomes national news.
B. July 22nd: Obama weighs in, saying the Cambridge police acted "stupidly." The episode has already become a touchstone for American racial anxieties.
C. July 24th, ~3 PM: Sensing a growing backlash to his remarks, Obama invites Gates and Crowley to the White House for a beer in a surprise press conference. The beer had been Sergeant Crowley's suggestion.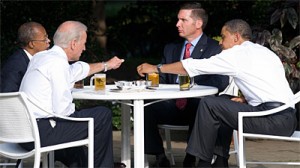 D. July 24th, 5:34 PM: Gates speaks out about the arrest in a thoughtful interview with The Root, the online magazine he edits.
E. July 25th-27th: A nation wonders: what kind of beer will the guests drink?
The Philadelphia City Paper: "Budweiser would be too obvious."
F. July 29th: It is revealed that they can drink whatever they want. Shockingly, Obama will drink Bud Lite.
G. July 30th AM: Obama is roundly criticized for drinking an un-American beer — Budweiser is owned by InBev, a Belgian company. Pundits weigh in that he should have gone with Yuengling, a more patriotic brand.
H. July 30th early PM: The networks gear up for the beer summit, using such innovations as six split-screen cameras and countdown clocks.
I. July 30th, 6 PM: The summit happens. Everyone discusses the arrest and racial issues, probably. Obama drinks Bud Lite, Gates drinks Sam Adams Light, Crowley drinks Blue Moon, and surprise guest Joe Biden drinks Buckler, a nonalcoholic beer.
J. July 30th, shortly afterwards: LA Times poll: "what kind of beer would you drink with President Obama?"
Have a tip we should know? tips@mediaite.com