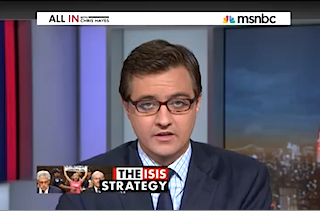 An off-hand reference to music mashup artist Girl Talk from MSNBC's Chris Hayes Tuesday night somehow turned into a scathing article on conservative media watchdog site Newsbusters, all because writer Mark Finklestein was unfamiliar with such classics as this combination of Jay Z and the Electric Light Orchestra.
Hayes was discussing some Republicans' tendency to conflate terrorist threats with border security and told his guest, "In the last 13 years since September 11, there have been occasional stories of this type. Sort of, a kind of Girl Talk mash-up of the fear about the border and the fear about terrorism being fused together into this story. It's not a new thing."
To Newsbusters' Finkelstein, this comments screamed sexism.
"Paging the MSNBC PC police!" he wrote. "On his All In show this evening, Chris Hayes used some decidedly un-PC language to dismiss concerns that ISIS or other terrorist groups might be infiltrating across our porous southern border."
Finkelstein went on to denounce Hayes' "frankly unfeminist phrase" and express his dissatisfaction with the argument even beyond its "political incorrectness."
Only later did the writer add this update, realizing his mistake:
UPDATE: Reader Tom E. has brought to my attention that "Girl Talk" is the name of a DJ who specializes in mashups. I'd surmise that, like me, most Hayes viewers didn't get the cultural reference and took "girl talk" at face value.
This is not the first time Newsbusters has been forced to issue a correction that undermines the entire point of the story they were trying to tell. Back in May of this year, former Reagan White House political director Jeffrey Lord published an article on Newsbusters that used a screenshot of a tweet from a fake Seth Rogen Twitter account to accuse the real Seth Rogen of hypocrisy over his outrage following a Washington Post column that linked his films to the UC Santa Barbara shooter.
As in the update to the Hayes article, Lord later added a correction to his piece that attempted to justify his error by mocking its source. While Finkelstein does not credit MSNBC viewers with possibly understanding Hayes' Girl Talk reference, Lord laid blame on the liberal MoveOn.org, which had originally shared the fake Rogen tweet. "MoveOn having long ago become a parody I was quite happy to link it," he wrote.
That's right, at Newsbusters, even its own writers' mistakes can be blamed on liberals.
Watch the Hayes clip below, via MSNBC:
[h/t Gawker]
[Photo via screengrab]
— —
>> Follow Matt Wilstein (@TheMattWilstein) on Twitter
Have a tip we should know? tips@mediaite.com