First Fox & Friends starts promoting Donald Trump's latest campaign ad on Twitter. Now another conservative-centric news outlet, Newsmax, is literally trying to give away Trump's slogan cap in exchange for a subscription to its magazine.
As Politico's Hadas Gold first uncovered Wednesday, the ad below, which looks a whole lot like it comes directly from the Trump campaign, has started to pop up on the Newsmax website (placed conveniently next to wall-to-wall Trump coverage):

When you click the ad, you are directed to a page on Newsmax's website that reads:
The cap that Donald Trump has been wearing at campaign stops — blazing out his "Make America Great Again," slogan — has become a sensation.

In fact, sales of the Trump cap are off the charts.

Now you can get your very own "Make America Great Again" cap (a $25 value) FREE with this offer, just pay shipping & handling.
So, how does this consist of anything besides open promotion of Trump's campaign? A spokesperson for Newsmax told Politico the cap is "not a Trump-provided product" and pointed out that the signature phrase was actually a slogan from Ronald Reagan's campaign. "It's all about generating revenue," the spokesperson added, insisting, "Trump does not get any revenue."
If Trump doesn't get any revenue, then where exactly are these hats coming from? The white hat pictured on Newsmax's landing page looks identical to the one sold on Trump's official website (see below):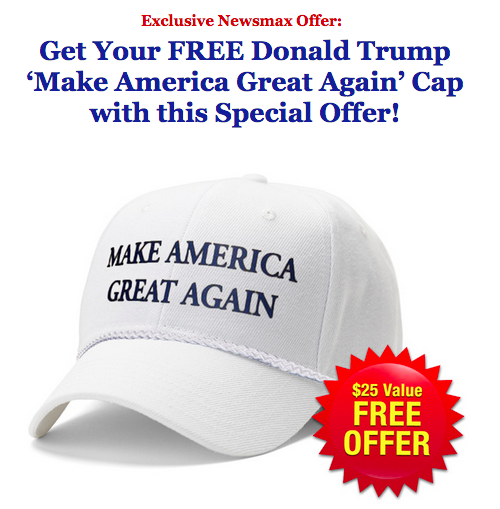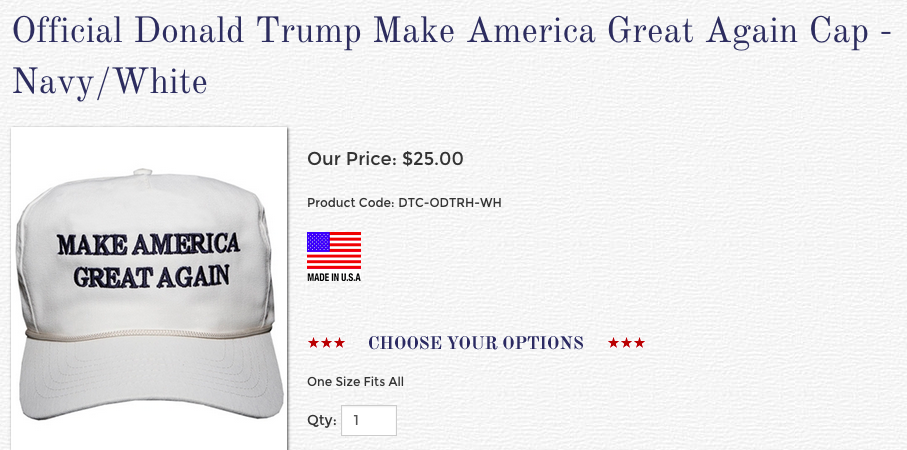 If Newsmax was buying the hats from Trump and then giving them away as prizes to their readers, then that would mean Trump's campaign was receiving direct revenue from the promotion. Otherwise, are we to believe that Newsmax is manufacturing its own knock-off versions? Either way, Trump spokesperson Hope Hicks confirmed that the campaign "does not have a product agreement" with Newsmax.
In addition to the online promotion, Newsmax hosts are also plugging the hat giveaway at the end of their TV segments. As you can see below, Steve Malzberg spent a few seconds talking up the promotion at the end of his interview with Dick Morris (starts at 5:15):
In the statement to Politico, Newsmax's spokesperson noted that the site has done "similar incentives, in the forms of items like books, with other candidates, including Mike Huckabee, Rand Paul, Marco Rubio and Ted Cruz." It's possible that the candidates donated those books to the site to use as promotional items, but if Newsmax had to purchase them, then that once again means there is revenue going into their pockets.
While Newsmax is an openly conservative website, you would think it would display a bit more tact with its internal promotional activities, which at least at the moment seem to be shamelessly using Trump's popularity to build up a subscription base.
On the editorial side, Newsmax has served as both a platform for Trump to spout his "bizarre" conspiracy theories about Fox News and a place for his competitors to attack him.
Another in-house ad that appears on the site this week comes even closer to endorsing Trump — if it weren't for that subtle question mark:

[Photo via screengrab]
— —
>> Follow Matt Wilstein (@TheMattWilstein) on Twitter
Have a tip we should know? [email protected]