Newspaper Disciplines Copy Editor For Changing AP Report To Say Obama 'Allegedly' Born In Hawaii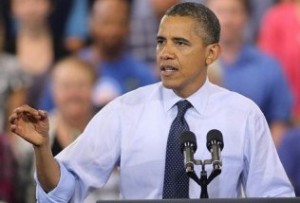 The Helena Independent Record, a newspaper based in Montana, became the target of some criticism after a copy editor inserted the word "allegedly" into a line, in an Associated Press story, about President Barack Obama being born in Hawaii. Later, the paper said the copy editor responsible for the "error in judgment" had been "disciplined."
The story in question was about the president's trip to Asia. One of the critics who spoke out against the edit — which read, "Obama was allegedly born in Hawaii" — was a retired staffer who worked for the paper for 28 years. In a letter to the editor, he wrote about the "small but damaging alteration."
"Allegedly born in Hawaii?" As if there is any doubt? That right-wing notion has been so thoroughly discredited that only Donald Trump and assorted other loonies still cling to it. Neither the AP nor -I hope – The Independent Record belongs in their company.

No respectable news organization gives any credence to that claim anymore, and certainly does not accord it the respectability of "allegedly." I hope the IR will find out how this editing gaffe occurred and be sure it doesn't happen again.
The paper issued the following editor's note:
Our copy desk made an error in judgment in editing the Sunday 2A Associated Press story about President Obama's trip to Asia and his place of birth. One of the copy editors inserted the term "allegedly" born in Hawaii in the story thinking the other copy editor would catch it, he didn't. It was a poor attempt at humor and a poor decision, but was not intended to be printed in the paper. Those responsible have been disciplined.
(H/T Romenesko)
Have a tip we should know? tips@mediaite.com