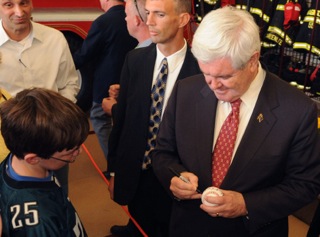 This is a story that has been written before: late last summer, specifically, when it appeared Newt Gingrich's rapidly imploding campaign wouldn't make it to the fall, when everything from losing most of his staff to being accused to using non-American t-shirts as swag to buying his Twitter followers made the idea of him winning any state delegates seem a joke. Gingrich stayed in and surprised everyone, and his camp appears to be insisting they will do the same once more. Of course, it is much harder to stay in the game when Mitt Romney has more than half the delegates he needs to win the nomination, making a non-brokered convention win a statistical impossibility or Gingrich.

RELATED: Ann Coulter Tells Gingrich To Go Home: 'You Can't Have Two Affairs And Run For President'
CBS reports this morning that Gingrich is continuing to campaign in Delaware and shows no signs of stopping, squarely attacking Romney. At a campaign stop in the state, Gingrich asked the crowd whether Romney is ready to answer if "he prepared to be, as he put it, 'severely conservative?' Or does he want to try and have an Etch A Sketch platform?" He also seems to be indicated that he believes a good turnout for him in North Carolina will do the trick, as he told the Raleigh News & Observer this week, "Romney is clearly the front-runner, but he has not locked down the nomination… North Carolina could play the same role of turning things around that it did in 1976 for Reagan."
As for money, that appears to be tight, but the head of the largest PAC supporting Gingrich, Rick Tyler, told CNN yesterday that "Newt Gingrich is in charge, we'll follow his lead and we'll stay in as long as he wants"– so at least that much money is not washing away, even as Gingrich struggles to maintain the eye of the media and fundraise against Romney.
Then there are Gingrich's public supporters, none louder or more prominent at this point than colorful former New York gubernatorial candidate Carl Paladino. Paladino made some waves of his own this week simply by saying he believed Gingrich had a "blistering" schedule of events ahead and he could see a path to victory for Gingrich, even if he looks like a "little roly-poly": "If Newt can put up a decent number in New York, I think he'd have some power at the convention," Paladino told Capital New York. He also had some salty words for people who worry about the effect of a brokered convention ("they're a bunch of pussies") and compared Romney to G.E. head Jeffrey Immelt, who he called "a f*cking two-faced c*ck-sucker that shipped the x-ray division over to China last week."
So, Newt: still in the game!
Have a tip we should know? tips@mediaite.com