Bristol Palin's Lawyer: Levi Johnston Owes More Than $38,000 In Child Support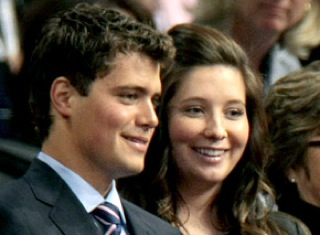 No one can say they didn't see this news coming. According to TMZ, current and soon-to-be young dad Levi Johnston, who routinely complains the Palin family won't let him see his son, Tripp, is having a hard time keeping up with his child support for Bristol Palin's young son– so much so that he is five digits in the red.

RELATED: Bristol Palin Takes Dig At "Lamestream" "Today" Show, Following Mom's Host Gig
Bristol's lawyer tells TMZ, Levi hasn't made a child support payment for the ex-couple's son Tripp since June 2010 … 22 months ago.
According to court records, Levi is required to pay $1,750 a month — which means his outstanding balance is $38,500.

As for why Bristol hasn't attempted to enforce the order — via wage garnishment or otherwise — Bristol's attorney tells us, "We forbore pursuing child support collection in the (perhaps naive) hope that Mr. Johnston would do what men are supposed to do and pay his support obligation voluntarily."
There is a lot going on with this story here that, unsurprisingly, TMZ missed– namely, the meta-fact that TMZ considered this story newsworthy. It isn't much of a stretch to argue that the relationship between Bristol Palin and the media is an unprecedented one in American politics– sure, the Reagan kids were rebellious and now-Congressman Ben Quayle had that weird "Dirty Scottsdale" scandal, but for the daughter of a losing vice presidential candidate– and her ne'er-do-well ex-boyfriend– to command tabloid-level fascination a full four years after her mother became a major party vice presidential candidate is something else entirely. To the point that TMZ, purveyor of all that we pretend to and wish we didn't care about, acknowledges that America would like to know about Johnston's child support failures anyone could have easily predicted a long time ago. Yes, part of this must have something to do with reality TV making people feel completely at ease with this sort of news about people who aren't exactly public figures in any voluntary way, but the confluence of that cultural aesthetic with the biggest political stage on earth is still a bit unsettling, almost exactly four years later.
Have a tip we should know? [email protected]