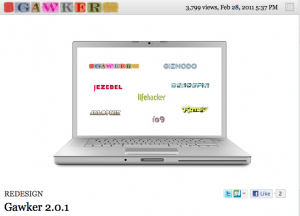 Earlier this year, Gawker Media unveiled a new look (and, more importantly, a new user interface) across several of its blogs websites (blogs are a thing of the past, y'know, not unlike Twitter), including science and sci-fi blog i09 and Gawker, the company's flagship news and gossip site. At the time, we asked you how you felt about the redesign, with many of you expressing irritation over the changes, and one commenter noting that he (or she) found the design to be both faster-loading easier to navigate.
Now, it seems our initial hesitation to embrace the site's bold new design choices was totally warranted. So many people had issues with Gawker's new look (and, subsequently, unique views to the site dropped) to the point that Gawker Media founder Nick Denton sent out a memo to staffers basically admitting that the whole… experiment… could have gone better.
This is significant because, previously, Denton had been so confident that the site's new layout would bring in pageviews – eventually – that he even made a bet with Mediaite's own site designer and frequent contributor Rex Sorgatz after Sorgatz announced that the redesign would ultimately fail. Reported Nieman Journalism Lab's Megan Garber:
One person who took Sorgatz up on his offer: Denton himself. ("Money where your mouth is," he told me.) The measure will be October pageviews on Quantcast. The market's at 510 million pageviews at the moment — so "for every million over that, he pays me $10," Denton says. And "for every million under, I pay him."
While Gawker's views could very well have climbed up to pre-redesign numbers given some more time, it seems The Powers That Be at Gawker Media decided it was better to change course rather than stick it out to see what happens.
So, now, Denton is singing a very different tune, admitting in the memo that when the redesign first launched, "some key features simply did not work – which is no way to introduce readers to something new." Gawker has published a list of tweaks and changes it'll implement to the site's design (buttons to social networking and sharing sites other than Facebook have, you might have noticed, found their way back on Gawker some time ago)… Which leaves us with just one question.
How much will Sorgatz walk away with again?
Have a tip we should know? tips@mediaite.com