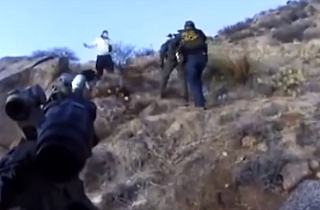 The fatal shooting of a New Mexico man this month by the Albuquerque Police Department was found to be justified, according to chief Gorden Eden. James Boyd, a 38-year-old homeless man with a history of mental health issues was confronted by officers on March 16, as KRQE News reports.
The department released a video of the three-hour standoff at a press conference on Friday. In the video, Boyd argues with police, claiming to be a federal agent, and protests their encroachment on his personal space. Boyd brandishes two knives at one point, and appears to surrender after officers use a flash grenade. They also, according to police reports, unleashed a K9, and attempted to subdue him with a taser and bean bag rounds. When Boyd turned and began to walk away, he was shot in the back.
The confrontation began when Boyd was found illegally camping.
According to the Albuquerque Journal's account:
"Don't change up the agreement," Boyd says. "I'm going to try to walk with you."

He tells officers he's not a murderer.

Boyd picks up his belongings and appears ready to walk down toward officers. An officer fires a flash-bang device, which disorients Boyd.

Boyd appears to pull out knives in both hands as an officer with a dog approaches him. He makes a threatening motion toward the officer, then starts to turn around away from police.

That's when shots ring out, and Boyd hits the ground. Blood can be seen on the rocks behind him.
The shooting has reinvigorated protests of the department's use of fatal force among advocacy groups like ProgressNow. "I was a police officer for a decade," said Patrick Davis, the executive director of ProgressNow New Mexico. "The over-militarized approach to law enforcement is having a very real effect on people's lives here in New Mexico and our leaders who should be taking real action seem to be taking it all in stride."
According to ProgressNow, this is the 36th person killed by the Albuquerque police in the past 38 months. All of the shootings were deemed justified by the department.
By comparison, New York City police shot and killed 16 people in 2012, and 9 in 2011.
In October another video surfaced of a robbery suspect being shot by the APD after he appears to have surrendered his gun.
Some of have argued that the rise of police shootings of suspects and innocent bystanders around the country in recent years is the result of budget shortfalls that have decreased the amount of training officers receive. Others point to the further militarization of police departments. The exact number is often under-reported, as Police departments are not required by the Department of Justice to report deadly shooting stats.
Watch below, via ProgressNowNM (WARNING: Graphic images contained
— —
>> Luke O'Neil is a journalist and blogger in Boston. Follow him on Twitter (@lukeoneil47).
Have a tip we should know? tips@mediaite.com