No, Paul Ryan Was Not Caught by a Hot Mic Saying 'Waste of My F*cking Time'
At the end of the GOP leaders weekly briefing on Capitol Hill, which was carried live by CNN this morning, Speaker of the House Paul Ryan (R-WI) walked away after answering a handful of questions from reporters.
Prior to CNN going back to studio, someone could be heard clearly saying "waste of my f*cking time" on the air.
Shortly after this aired, House Minority Leader Nancy Pelosi's Deputy Chief of Staff Drew Hammill accused Ryan himself of uttering the phrase.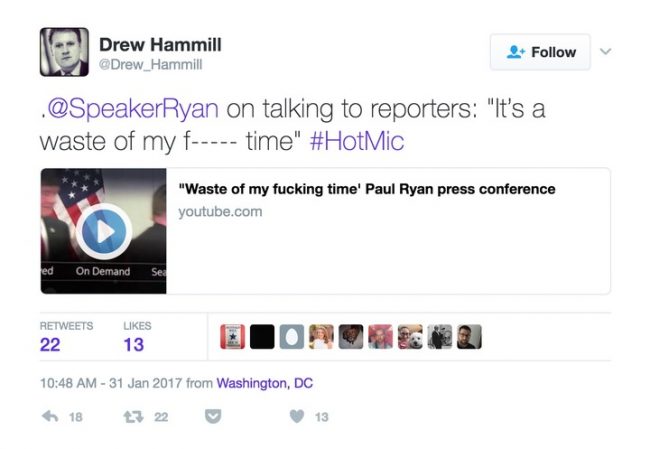 Except, that is almost certainly not the case.
Watching the video, Ryan was well away from the microphones when the comment was tossed out. In all likelihood, this was either a reporter or a tech who was a little too close (and loud) to the network's mic.
But that didn't stop Hammill from publicly lobbing out that accusation without any proof whatsoever.
After Hammill's tweet accusing Ryan of profanely dismissing the press, he was immediately called out. Ryan's communications director told him it wasn't Ryan.
@Drew_Hammill Drew, that is not Speaker Ryan. You know better.

— Mike Ricci (@riccimike) January 31, 2017
And others noted that is was clearly not Ryan while admonishing Hammill:
@MikePLong @Drew_Hammill Yeah, it's surely a bored cameraman.

— Dave Weigel (@daveweigel) January 31, 2017
this is a lie. a blatant lie. you should be ashamed of yourself @Drew_Hammill #Drewisaliar https://t.co/EIPX7B3owS

— Josh Finestone (@Josh_Finestone) January 31, 2017
There's actually a @CNN producer who RT'd this garbage. Great service you're providing @Drew_Hammill cc: @deirdrewalshcnn https://t.co/mdiYI8v15y

— Mike Long (@MikePLong) January 31, 2017
Why are you suddenly not doing any fact checking? @Drew_Hammill lied for his boss @NancyPelosi, & you should call him out fot it. https://t.co/gWrANm2eCt

— The Reagan Battalion (@ReaganBattalion) January 31, 2017
This is shameful, the epitome of unprofessional and absolutely unbecoming for someone in @Drew_Hammill's position. https://t.co/TSnspuJVc7

— TJ Tatum (@TJTatum) January 31, 2017
Hammill eventually deleted the tweet, stating Ryan's chief communications advisor told him it wasn't Ryan. The Pelosi staffer also apologized.
.@BrendanBuck tells me that was not his boss. Will take his word for it and I apologized.

— Drew Hammill (@Drew_Hammill) January 31, 2017
And Buck accepted the apology, noting that Ryan isn't one to swear like that:
@Drew_Hammill thank you. appreciate it. he's not really an f-bomb guy.

— Brendan Buck (@BrendanBuck) January 31, 2017
Watch the video above, via CNN.
[image via screengrab]
–
Follow Justin Baragona on Twitter: @justinbaragona
Have a tip we should know? tips@mediaite.com