North Korea Culls Twitter Account, Follows Three: Vietnam, DPRK News, And Jimmy From Texas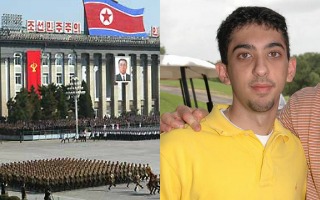 Yes, the secretive, Stalinist state of North Korea has a Twitter account. And what is a secretive, Stalinist state to do with its Twitter account but engage in a broad purge from time to time? Recently, The Democratic Peoples' Republic of Korea did just that — culling all of the accounts that it follows on Twitter down to three: the official Twitter account for the state of Vietnam, a North Korean news service, and some guy from Texas named Jimmy.

"I was initially surprised, but I always try to make friends with people from all different locales and backgrounds," Jimmy Dushku, 25, told Mother Jones.
North Korea's handle is @uriminzok (meaning "our nation"). Dushku is the only active account that the communist state follows — neither of the other accounts have tweeted anything in months.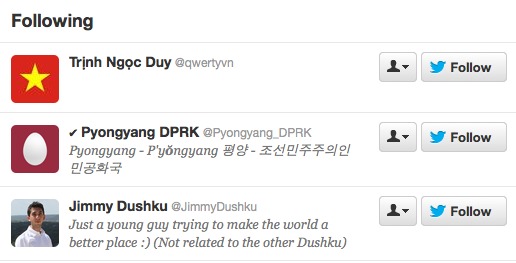 Dushku has been attacked over the North Korean's decision to leave him on their list of followed accounts. He has been accused of being a spy for the DPRK, and says he has been inundated with threatening and harassing messages from individuals upset by North Korea's association with him.
"I have been very interested in the country, from a historical point of view, for many years now. Behind all of the headlines you see on the news, there are people who live there," Dushku told MoJo. "I'd love to see the Arirang Festival in person."
Given that there appears to be a mutual fondness between Jimmy Dushku and the DPRK, the Dear Successor just may grant him his wish.
Read the full report via Mother Jones
> >Follow Noah Rothman (@Noah_C_Rothman) on Twitter
Have a tip we should know? [email protected]