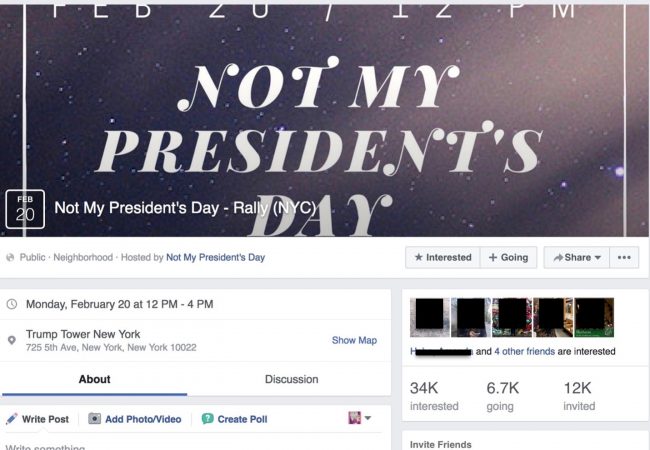 Have you been feeling angry since November 8 of last year or maybe January 20 of this year? Does it have something to do with the fact that Hillary Clinton won the popular vote by about 3 million votes, yet Donald Trump is in office, doing things like banning entry to the United States by people from seven predominantly Muslim nations?
If you feel like Trump is not your President, Presidents Day on February 20 is going to suck pretty hard for you… unless, of course, you participate in any of the following protest events, which are designed to send a message to the administration that many of Trump's actions don't have public approval and the people are watching.
In New York, you can attend this "(Not My) Presidents Day" rally, which will take place outside of Trump Tower at noon.
Los Angeles will host this "(Not My) Presidents Day" at City Hall.
A collection of public, site-specific performances will take place throughout Minneapolis for "This Machine (Not My Presidents Day)." Organizers write that, "With art, embodiment, and activation of public space, we will build This Machine to directly combat the propaganda machine, the money machine, the media machine, in service of integrity, empowerment, and humanity."
This Machine, like many other similar initiatives around the country, is a product of Bad and Nasty. Read more here and here if you'd like to do an event in your own city. For instance, New Orleans is doing a Bad and Nasty event series on the 20th, too.
Know any other events slated for February 20? Let us know.
[image: screengrab]
Have a tip we should know? [email protected]