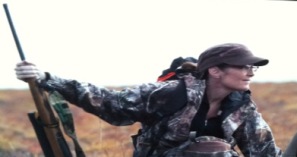 From the moment it was announced, Sarah Palin's Alaska was not going to be just another TLC show, starring Sarah Palin.
Besides attracting the 'will she or won't she' debate, the show has a vibrant new media effort going at (amazingly-titled) SPAlaska.com. Mediaite went to a launch event for the show last week.
The event gave reporters a look at the Spalaska web and social networking campaign, as well as the show itself. The off-shoot site works in conjunction with TLC to bring five separate blogs to fans and foes of the show alike. There's a blog about politics, one for media, podcasts, behind-the-scenes and culture. Included will be information about coordinating watch parties, and live blogs featuring a voice from the left and the right during the shows.
The Spalaska organizers played the first few minutes of episode one for those in attendance, and the beautiful sprawling shots of Alaska were intertwined with Palin and her family. It was obvious Mark Burnett (the Executive Producer of the show) left his mark. The opening credits featured a song by Third Day (which we know thanks to Spalaska.com) and Survivor-like introductions to the cast of characters: Sarah, Todd, Piper, Bristol, Willow, Track, Trig, Tripp.
After an opening scene about cupcake-making, a brief moment of Joe McGinniss related material aired. "The summer has been kind of a taken away from us," said Todd during the show. (The season was filmed during the long Alaska days of July and August.)
Inevitably, there will be those who will look for (and find) political moments in the program. Brian Reich, the show's digital media strategist, told us people "come with preconceived political views but our job on the digital team is to get them to the second episode."
Another job of the digital team? Continuing the brilliant way Palin can turn a negative into a positive. She can make up a word on Twitter, and suddenly "refudiate" is part of the lexicon. She can write a note on her palm, and now it's part of her campaign stumping. In this same way, the giveaways at the end of the party were T-shirts for Spalaska – with the catchphrase "I can see Sarah Palin's Alaska from my living room."
Side note: It feels like as good a time as any for me to make a guess about what Palin will do about 2012 and running for President. My guess – she doesn't run, but endorses a candidate, campaigns hard for him or her, that candidate wins, and she becomes a White House regular. Then, in 2014, she's the one who goes out on the trail to either try to keep Congress red or turn it for the GOP (unlike Pres. Obama in 2010).
Sarah Palin's Alaska premieres November 14 at 9pmET.
—–
» Follow Steve Krakauer on Twitter
Have a tip we should know? tips@mediaite.com