Notice Something Missing? MSM Seems To Collectively Forget Anniversary Of Iraq War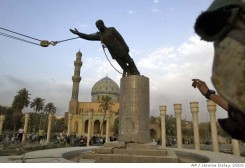 Things I have gleaned from my Twitter feed today: It is the second anniversary of the death of Arthur C. Clarke. Things that are noticeably absent: Any mention that today is the 7th anniversary of the beginning of the war in Iraq.
It's an absence made even more noteable when one considers the deluge of reflection that overtook Twitter this last Sept. 11. Today's anniversary is not even a trending topic
But let's forget Twitter for a second — though it's a great measure of where the hive mind is focused — and turn to some more "reliable" news sources. There's not a single op-ed in the New York Times today to mark the anniversary, or pontificate on where it all went wrong (update: there is a photo slideshow from this weekend's Magazine). Nor the Wall St. Journal to tell us what went right. Nothing in the Washington Post either. Nor the LA Times. I can't even find a single link on Drudge. Perhaps even more shocking is that I can't find anything on Andrew Sullivan.
It's almost as though where the media is concerned the Iraq War didn't happen. Which obviously is not the case on either end. And while clearly there is plenty of real news to go around this week — health care, health care, Israel, Afghanistan, the Pope, health care — it's not as if Iraq, or the decisions that led us there are not still immediately relevant to the country. We still have troops there and they just had an election. Anniversaries provide an easy, cosmetic opportunity to reflect and rehash and refocus, and hopefully shine a brighter, smarter light on decisions past, and their outcome, so that history doesn't repeat itself. One might even consider it a responsibility. But apparently nothing is getting repeated today.
Video below of CNN's coverage from that day. Side note: the book on which Matt Damon's new movie 'Green Zone' (which I haven't seen) is based, is a must-read for anyone interested in the immediate aftermath of the "shock and awe" campaign.

Update: I am not the only one to notice. Greg Mitchell writes about the phenomenon at his new Nation blog Media Fix. Also, Jason Linkins at HuffPo just posted this. Also this from The Takeaway/Newsweek. And NBC's Richard Engel reflects. Hooray the Internet.
Have a tip we should know? tips@mediaite.com