Now Allen West Thinks Obama Is Using Benghazi to Distract from Everything Else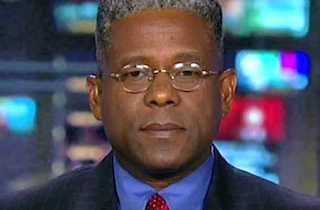 It's been just over a month since former Republican Congressman and current Fox News talking head Allen West took to his blog to complain that the Obama administration was focusing on the Boko Haram kidnappings in Nigeria in order to distract Americans from the ongoing investigation into the 2012 attack on the U.S. consulate in Benghazi, Libya.

Now that a key suspect in the attack has been arrested by U.S. Special Forces, West thinks President Barack Obama is using that Benghazi capture to distract from everything else:
Squirrel! #Benghazi suspect conveniently captured to deflect attention from all the other nightmares http://t.co/wSz5vJMs2Y #tcot

— Allen West (@AllenWest) June 17, 2014
"Are we witnessing an Obama 'Wag the Dog' moment with Boko Haram in Nigeria? I say yes," West wrote in May.
"Is it a case of 'wag the dog' and a convenient shift from the countless evident failures of Obama or something credible? Not so sure…" he added on Tuesday.
"We've known about this fella for almost two years — he was the one who famously sat outside in a hotel sipping on a drink, giving an interview to Time magazine," he continued. "We've known his whereabouts — so why now?"
West evidently thinks Obama used Boko Haram to distract from Benghazi last month, but if he really wanted to appease his critics, wouldn't he just have arrested Ahmed Abu Khattala then? After all, "we've known about this fella for almost two years."
So, instead of being pleased that Obama has made this long-awaited arrest in connection to the Benghazi attacks, West naturally turns around and calls it a distraction from "all the other nightmares," whatever those might be.
West continued:
"Hat tip to our U.S. Special Operators but this smells of typical politics and especially the politics of expediency and Orwellian message control. We know the liberal progressive media depends upon an easily distracted populace. By the end of the week, this Abu Khatallah will be forgotten, but what will not be forgotten is the neatness of this and the timing of the announcement. So I guess Obama and Clinton can now tout that the perpetrators have been brought to justice — what took so long? — if indeed this pans out."
For someone who has spent the last year and half castigating the Obama administration for ignoring the Benghazi issue, he doesn't seem very pleased with this latest piece of news.
Also, in case you don't know the origin of the "Squirrel!" meme, just watch the clip below from Disney Pixar's Up:
[Photo via screengrab]
— —
>> Follow Matt Wilstein (@TheMattWilstein) on Twitter
Have a tip we should know? tips@mediaite.com