NY Observer Editor Gave Trump Input on AIPAC Speech, Observer Issues Statement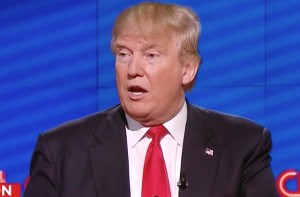 Donald Trump's daughter Ivanka––who recently gave birth––is married to Jared Kushner. Kushner owns the New York Observer, and that publication has come under some scrutiny over one of its editors giving Trump input on his AIPAC speech.
Amid lots of other fascinating items in Gabriel Sherman's New York Magazine profile of the Trump campaign came the revelation that Kushner wrote the speech Trump delivered to AIPAC weeks ago "with input from Observer editor Ken Kurson."
Huffington Post senior media reporter Michael Calderone reached out to Kurson and received this response:
"Input: I looked at a draft," Kurson wrote when asked to clarify his role. "Jared and I have been discussing politics since 2004. It's been a shared passion since well before I worked for him. We talk every day about all kinds of things. It's not unusual for an editor to talk politics with his publisher. What's unusual is that a publisher's father-in-law runs for president."
He made it clear he has no interest in letting "the journalist police" tell him "how to behave or to whom I'm allowed to speak."
This isn't the first time he's had to address conflicts of interest, but this time Observer senior policy editor Jill Jorgensen released a lengthy statement to HuffPost announcing they'll be reviewing how they cover Trump:
A recent report about Observer Editor Ken Kurson's input on a speech delivered by Donald Trump before AIPAC has resulted in new scrutiny of our newspaper's relationship with Mr. Trump, who is the father-in-law of our publisher, Jared Kushner. Going forward, there will be no input whatsoever on the campaign from Mr. Kurson or anyone on the editorial side of the Observer.

Further, we are re-visiting our policy on covering Mr. Trump's presidential campaign—something that has been a matter of frequent discussion and debate at the Observer since Mr. Trump announced his candidacy. The policy has evolved from our original plans to simply not cover Mr. Trump to covering him when he intersected with New York politics to more recently covering his campaign with mainly straight news stories, with an effort to avoid the opinion and analysis pieces of which other candidates have been the subject.

That policy has become less tenable as the field of candidates has shrunk. In the interest of covering the race as fairly as possible despite the unavoidable conflict of interest created by our ownership—a conflict we disclose on each story about Mr. Trump—and in response to concerns raised by staffers at the paper, Observer writers will now be able to cover Mr. Trump in the same way they cover every other candidate in the presidential race.
[image via screengrab]
— —
Follow Josh Feldman on Twitter: @feldmaniac
Have a tip we should know? tips@mediaite.com
Josh Feldman - Senior Editor