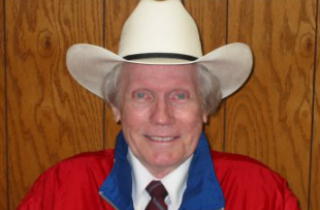 Fred Phelps, the founder of the Westboro Baptist Church, is reportedly on his deathbed, and Vice News reached out to the Satanic Temple in New York because last year, they organized a "Pink Mass" to turn Phelps' mother gay by going to her gravesite and having a gay couple and a lesbian couple kiss over her grave, and they said at the time they would do the same when Phelps passes.
Lucien Greaves, the head of the Satanic Temple, writes that doesn't sugarcoat how unfazed he feels about the Westboro leader being on his deathbed, saying Phelps actually had a positive influence because he "often rallied people in opposition to his stupidity, and he served as a ludicrous arch-villain."
He addresses last year's "Pink Mass" and promises that when Phelps passes, the Satanic Temple will be there to perform the ritual again.
At the time, I predicted that Fred hadn't too much longer till he would pass, and I stated – in a direct tweet to the WBC – that I would be presiding over Fred's own Pink Mass before too long. As I have made a promise to a dying man, I fully intend to do my very best to see it through, and the pomp and circumstance of this Pink Mass will surely far, far exceed that of the original event in Meridian, Mississippi.
So… that's happening.
You can watch WTOK's coverage of the last "Pink Mass" below:
[h/t Raw Story]
— —
Follow Josh Feldman on Twitter: @feldmaniac
Have a tip we should know? tips@mediaite.com
Josh Feldman - Senior Editor