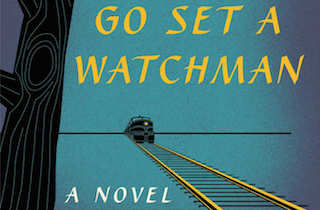 The New York Times' book review of Go Set a Watchman sent the literary world into a dervish last week when it revealed that the first draft/prequel/sequel to Harper Lee's To Kill a Mockingbird portrayed beloved protagonist Atticus Finch as an aging racist dallying in Ku Klux Klan membership. The internet then proceeded to do what it does best: make giant cultural proclamations about a text it hadn't read.
It turns out the Times' Michiko Kakutani wasn't supposed to have read it, either. Harper had place the highly-anticipated novel under a global embargo; apparently the Gray Lady "obtained" a copy of the novel from a less legitimate source.
"Our policy is that we do not honor embargoes if we obtain a book independent of publishers' official channels," a Times spokesperson told Newsweek.
RELATED: Watch Harper Lee Receive Her First Copy of Go Set a Watchman
Per Newsweek, "The Times's review prompted a flurry of other outlets to publish their own reviews, spinning the publisher's planned promotion schedule into a weekend of chaos."
"I'm not angry, but I'm not happy," Harper's director of publicity said. "I think it does a disservice to consumers who are out there wanting to buy the book. They read a review and they want to buy the book."
Kakutani's revelation added yet another layer of ambiguity to the new release, which was written before Mockingbird and presumed lost. It's unclear whether Lee intended it for publication, wanted it published, or is even of sound mind; some believe her lawyer is exploiting her in the release of the old manuscript.
[h/t Newsweek]
[Image via screengrab]
——
>> Follow Evan McMurry (@evanmcmurry) on Twitter
Have a tip we should know? tips@mediaite.com