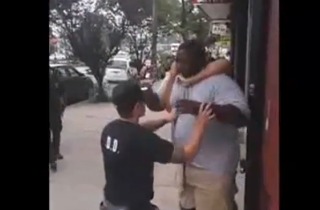 The family of Eric Garner reached a $5.9 million settlement with New York City on Monday months after the man was killed during his arrest for selling untaxed cigarettes. The New York Times reported that Garner's family would join Al Sharpton at a rally on Saturday, but during a news conference on Tuesday, both agreed that the money from the settlement is not a substitute for justice.
"Don't congratulate us," said Garner's mother, Gwen Carr. "This is not a victory. The victory will come when we get justice."
Garner's widow, Esaw Garner, also spoke about at the event, stressing how the Garners will not feel satisfied until Officer Daniel Pantaleo faces charges for violating her husband's civil rights.
"They treated my husband like an animal and I think they give animals more respect than humans," said Garner. "Now I have no one but my children, and I'm alone to deal with this for the rest of my life."
Mr. Sharpton said that people who labelled the Garners' pursuit of legal action were cynical for thinking that they were trying to make money from the fallout. He went on to say that the settlement was a way for the city to acknowledge what happened, but it does not sufficiently right the wrongs towards Garner, or guarantee that there will be any real change.
"This is not about money. The family wants justice. There's no argument about money," Sharpton said. "We will not end it until we have changed how policing goes. There needs to be structural change."
[h/t WABC]
[Image via Screengrab]
Have a tip we should know? tips@mediaite.com