NY Times Listicle Ad Brags About All the 'Cultural Icons' Who Write for Them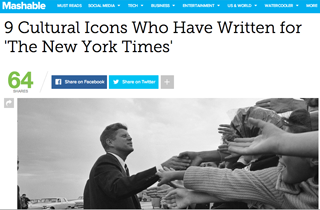 Did you know the New York Times is a paper where important cultural icons make their important cultural voices heard? No? You didn't? Good thing their newest ad campaign is here to inform you that no less than nine (9) important Cultural Icons have their bylines printed in the New York Times — and they will inform you via listicle!
Thanks to Mashable's BrandSpeak, we now know this, because the sponsored listicle on their site — paid for by the Times — is called "9 Cultural Icons Who Have Written for 'The New York Times'":
Most people can name at least one Times writer. Maybe you make your weekend plans based on the reviews by film critic A. O. Scott or let the street style snapshots of longtime fashion photographer Bill Cunningham inform your wardrobe choices. Or perhaps you're a weekly reader of columnists Nicholas Kristof, Andrew Ross Sorkin, David Carr, Nick Bilton, Maureen Dowd or others.

But you may not be aware that some of the biggest names in literature, pop culture and politics have earned a byline in the Times, too.

Here are nine cultural icons who have written for The New York Times.
People like JFK:
In the May 18, 1958 New York Times Magazine, John F. Kennedy, then a senator, penned a piece headlined "The Shame of The States" calling for change.
And William Howard Taft:
Former President William Howard Taft, got a byline on a full page spread in the May 31, 1914 Sunday Times, for an article headlined "Mr. Taft Tells How The Trust Law Was Made To March." Taft had been out of the White House for only a little over two months when he penned the piece, summarizing and analyzing several court cases and opinions that impacted America's stance on anti-trust laws.
And Mary-Kate Olsen:
In February 2007, Mary-Kate Olsen's byline appeared above a short Style piece about her favorite accessory: a red quilted Chanel bag that, as it turns out, came from her twin sister Ashley's closet. "I wore it to an event and never gave it back. Luckily, she's moved on to another bag, so I'm safe for now."
Everyone, please purchase the New York Times to see whether journalism is in its feeble old age, dying in a virtual nursing home, penniless and sustained only by memories of past glory what Cultural Icon could be writing in its pages next!
[h/t Zach Seward]
[Image via screenshot]
— —
>> Follow Tina Nguyen (@Tina_Nguyen) on Twitter
Have a tip we should know? tips@mediaite.com