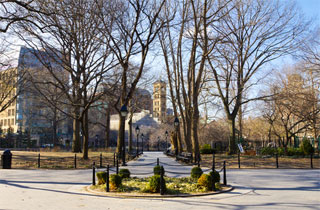 Apparently, writing about hazardous work conditions in the United Arab Emirates is a dangerous decision these days: New York Times journalist reported that she was being tailed by a private investigator after she wrote about human rights abuse in the building of NYU's new campuses in Dubai.
It all stems from a story the Times wrote last year, covering the dangerous and harsh conditions for the migrant workers building NYU's new campus in Dubai. Months after it was published, a private investigator named Loren Berger began making inquiries about the article's co-author, Ariel Kaminer. The New York Times reports that Berger, who was also investigating the work of an NYU professor critical of the Abu Dhabi expansion, had begun asking their critics for information:
On Jan. 29, Ms. Berger called Susan Fraiman, a professor of English at the University of Virginia. Professor Fraiman had written critically about some of Professor Ross's academic work.

Ms. Berger "said something like, 'We're looking for people to comment negatively,' " Professor Fraiman recalled in an interview. "I told her that I don't know him personally. It seemed odd."

She said that she had asked about the context of the investigation, and that Ms. Berger had told her the president of N.Y.U. was under fire over the university's involvement in the Emirates.

As Professor Fraiman recalled the conversation, "She said: 'We're investigating Andrew Ross for his comments about this and a particular journalist, Ariel Kaminer, who wrote about it. By the way, do you know her?' "

Both Professor Fraiman and Ms. Kaminer attended Princeton University, but at different times; both said they did not know each other. "I am amazed that anyone would waste time investigating a reporter instead of trying to help these workers," said Ms Kaminer, who left The Times in December.
Oh, it gets even more sketchy.
"I can't tell you who I'm working for — honestly, to tell you the truth, I don't know who the client is," Berger told the Times when they reached her for comment. "It's not unusual. I totally understand the reason for your inquiry and the nature of it. I can't comment."
NYU officials said that they knew nothing about the investigation, with the Times describing them as "alarmed."
"The university has no knowledge of this and no involvement," John Beckman, an NYU spokesman, told them. "It's reprehensible and offensive on its face, and we call on whoever is involved to desist immediately."
The Times noted that it was unclear whether the UAE, "which has a record of striking back at those critical of migrant labor conditions there," was behind the PI.
[New York Times]
[Image via Shutterstock.com]
—
>> Follow Tina Nguyen (@Tina_Nguyen) on Twitter
Have a tip we should know? tips@mediaite.com